Michael Bay says no more alien turtles in "Teenage Mutant Ninja Turtles"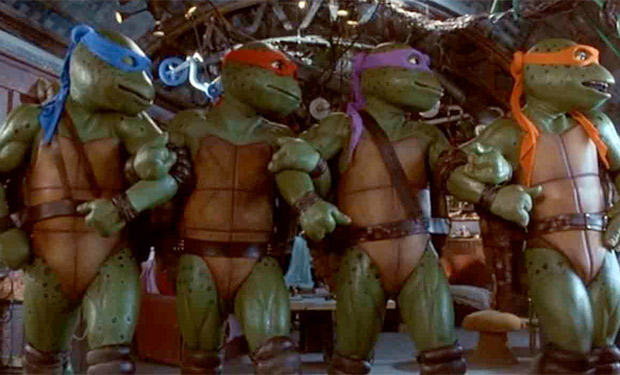 Posted by Terri Schwartz on
According to Michael Bay, there was never a point in time when his upcoming "Ninja Turtles"> "Teenage Mutant Ninja Turtles" movie was going to involve the titular Turtles being aliens.
"There was that quote saying that we're making [the Ninja Turtles as] aliens. We're not," he told Moviefone. "It's the ooze! It's from the original source material. These are from the original writers, and I never went out to correct myself in the press. I do listen to the fans and I do want this to be authentic. I think they're going to be really happy with this movie. When I see the digital stuff, the turtles look great."
That's good news for fans who were initially put off by the alleged plan to have the Bay-produced movie drop the "teenage" and "mutant" elements of the Turtles and have them be from an alien race instead. It also seems like the film, which was once called "Ninja Turtles," is once again going to be called "Teenage Mutant Ninja Turtles." Thank goodness.
Bay is producing and Jonathan Liebesman is directing "Teenage Mutant Ninja Turtle," and its screenplay was written by a long list of players: Josh Appelbaum, Andrew Nemec, Art Marcum, Matt Holloway and John Fusco. In addition to Ritchson, Arnett and Woodburn, "Ninja Turtles" stars Megan Fox as April O'Neil, Jeremy Howard as Donatello, Pete Ploszek as Leonardo and Noel Fisher as Michelangelo. The movie is slated for a June 6, 2014 release date.
During the interview, Bay also opened up about "Transformers 4." That film stars Mark Wahlberg, Jack Raynor, Nicola Peltz and Stanley Tucci, and is due in theaters on June 27, 2014.
"You know there are a couple of historians of Transformers," Bay said. "I would do my designs of the robots and they're like, 'What if you just add a little bit more ears to Optimus?' But they're really hands off. We've redesigned them in 'Transformers 4,' and there's some really cool shit in it. I'm literally redesigning every character, top to bottom. There's a reason why they're redesigned, but it's also to keep it new and fresh to me. I think the fans will appreciate some of this new stuff we have in the movie and some of the new characters."
Are you looking forward to "Teenage Mutant Ninja Turtles" now that it has these changes? What about "Transformers 4"? Tell us in the comments section below or on Facebook and Twitter.