"Michael Arndt" gives hilarious "Star Wars: Episode VII" status update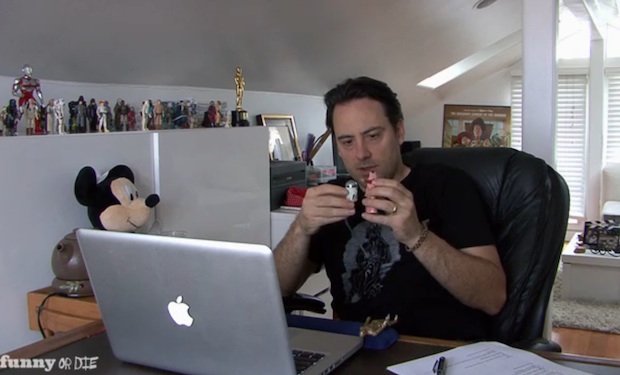 Posted by Terri Schwartz on
Michael Arndt seems to be having a bit of trouble writing "Star Wars: Episode VII" — or at least a satirical portrayal of him is. The Oscar-winning "Toy Story 3" screenwriter has been hard at work on the new project since November, so it's no surprise that comedian Andrew Bowler made a Funny or Die sketch mocking his progress — or lack thereof — writing the anticipated new film.
According to the above video, Arndt didn't get much farther than writing, "A long time ago in a galaxy far, far away…" on his first day. This version of him did try to take news spins on classic lines like "scruffy-looking nerf herder" and even considered bringing Yoda back from the dead, but fortunately he clicked the "undo" button for all of those concepts.
Thus far, nothing has been released about Arndt's plans for the new movie. Beyond the fact that it will be set after the events of "Return of the Jedi" and will potentially feature Harrison Ford, Carrie Fisher and Mark Hamill, Disney and those involved been mum on the subject. Hopefully Arndt does have some better ideas kicking around than the ones joked about in this video.
"Star Wars: Episode VII" is being directed by J.J. Abrams, with screenplay duties being handled by Michael Arndt. It is expected to hit theaters in 2015, with "Episodes VIII" and "IX" coming out in 2017 and 2019. Disney has confirmed that other "Star Wars" spinoff movies are in the works that will be written by Simon Kinberg and Lawrence Kasdan and hit theaters in 2016 and 2018.
Did you find this Funny or Die skit funny? Tell us in the comments section below or on Facebook and Twitter.