Jennifer Lee Pryor talks "Richard Pryor: Omit the Logic"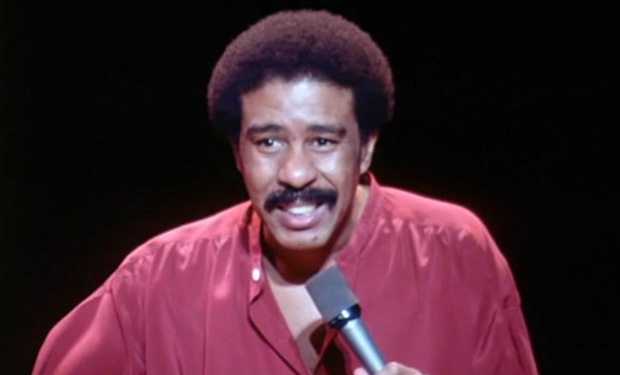 Posted by Ron Mwangaguhunga on
Throughout the new documentary "Omit the Logic" we get a behind-the-scenes look at the making of one of the great American satirical-comic minds of the twentieth century. , His collaborator Paul Mooney, Robin Williams, Mel Brooks, Lily Tomlin, Whoopi Goldberg, Bob Newhart, David Chappelle are among the many luminaries influenced by Pryor that appear in the film giving testimonials. Directed by Marina Zenovich, the documentary provides an unflinching look at Pryor's childhood, his rise to fame, the cocaine abuse, the self-immolation, his second-sailing after "Live at Sunset Strip" and, ultimately, the diagnosis of multiple sclerosis and his early death.
Marina Zenovich has a history of controversial documentary subjects. Previous to this film Marina directed "Roman Polansky: Odd Man Out." "We like complicated men," said Jennifer Pryor at the screening.
I spoke with Jennifer Lee Pryor, at the Hilton at the apex of the Tribeca Film festivities. Pryor, identified in the film as Richard Pryor's "Wife Number 4 & 7," comes across as fiercely loyal to the legacy of her husband. She does not mince words about how she felt about Damon Wayans calling Richard's stand-up routine, as his multiple sclerosis advanced, "sad." "That was brave of him," Jennifer says, because Richard was diminished. "He was heroic — he would still want to come out and connect with people." It is also pure Richard Pryor, the truth teller, ruthlessly mining his own life for comedic material no matter how personal the details or how offensive it might be seen to an audience. That is, of course, the difference between the comedy of a Richard Pryor and the comedy of a Damon Wayans.
It is obvious that Jennifer Pryor is still very much in love with her husband. "Even in death he still breaks my heart," she said, memorably, during the Q & A at the SVA Theater last Tuesday. Theirs was a complicated relationship of leavings and coming back together. And at the premiere and during our interview Pryor mists up remembering Richard several times. The Pryor who used "motherf*cker" and "n*gger" with an almost disturbing familiarity is also the Pryor, she wants us to know, who "hid presents around the house for me to find." Jennifer Pryor wants the film's ultimate takeaway to be Richard's "tenderness and his vulnerability."
Richard Pryor was raised in a brothel run by his grandmother, the matriarch of the Pryor family, in Peoria, Illinois. Her influence on his worldview was enormous. He began his comedy career, however, imitating the style of Bill Cosby. One could get more gigs, more television appearances and corporate retreats by going the "family friendly" route and that's just what he did. Pryor was quite successful at it, did all the great nighttime talk shows of the late 20th century and achieved the comedic gold standard of the day: a Vegas gig. All he had to do was sit back and count the money. In Vegas, however, Pryor had a revelation. In the audience one day was Dean Martin, the epitome of Vegas cool. Pryor was doing his safe, Cosby-ish imitation when he saw the look of utter disgust in Dean Martin's eyes. It was a revelation. After that, Pryor left that safe routine aside and found his own voice — X-rated, ferociously truth-telling, astonishingly personal — and never looked back. The intense observations made, as a child growing up — Don Draperesque — in a brothel informed his new comedic style. The young and the hip immediately took notice. Pryor went on to become the stuff of legend until cocaine, the fire and MS interrupted his upward ascent.
How were Richard's last days? "His shrink said at the end of his life he made peace with it," says Jennifer. But Richard Pryor embodied, post Civil Rights, raw African-American masculinity. He was on stage always so hyper-kinetic, animated; Pryor's comedy was always quite physical. He would stalk a stage, prowl, owning every inch as he tried to win over the crowd. How did the diagnosis of MS affect that aspect of him? "It's challenging," said Jennifer. "I would see sometimes the pain of him being diminished." Animals helped. "He was an animal lover. He lived with two rescue dogs. They were his companions," Jennifer says, smiling at the memory of his last days.
How does one cover such a remarkable American life in the span of 90 minutes? If there is any flaw to this noteworthy documentary, it is that it tries to cover too much territory. A full length feature documentary could easily be made just of the making of "Live at Sunset Strip," his great comeback after the rum-soaked self immolation after the manner of the Ali-Frazier documentary "One Nation Divisible." That having been said, "Omit the Logic" remains, however, the best entry point into the life of Richard Pryor. It is an heroic undertaking. Jennifer, perhaps sensing that 90 minutes is not enough to tell the whole Richard Pryor story hinted at the premiere that she wanted to do a sequel. I asked her what period of life Richard would have wanted covered more deeply. "I think he would probably want to talk more about the NBC comedy show. It was not easy. He was battling with white executives."
Jennifer is also seeking to publish Richard Pryor's diaries which, she told me, go into his upbringing in the brothel and his reflections on that time of his life. The story of Richard Pryor is far, far from over.
Will you be seeing "Richard Pryor: Omit the Logic"? Tell us in the comments section below or on Facebook and Twitter.