Guillermo del Toro gives "Justice League Dark" update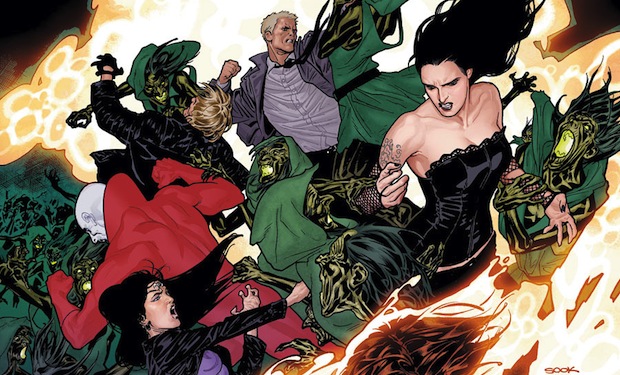 Posted by Terri Schwartz on
Guillermo del Toro is still hard at work developing his new "Justice League Dark" movie. While promoting "Pacific Rim" at WonderCon over the weekend, he gave a status update on "Dark Universe."
"On 'Justice League Dark,' or 'Dark Universe,' what we're doing is we finished the bible. Then we're going to start the screenplay with a writer we hope we can announce very soon," he said. "What I'm doing is the lead character that guides us through that is Constantine. Blonde. He is basically trying to recruit these guys. On Etrigan, I'm using Jason Blood in the time of Merlin."
Del Toro continued, "We get to their origin through the story. We don't make the origin story at the top. We find it out as they each have mysteries to solve. Swamp Thing is at peace with who he is, but Deadman still needs to figure out who shot him. It's all woven in. When I was a kid, my two favorite characters in the whole DC Universe were Etrigan and Swamp Thing, so I'm in heaven."
Sounds like some serious progress is being made on the film even though it doesn't have a title that's set in stone. It remains to be seen if anything comes of this movie, as del Toro is the king of picking up projects that he never manages to complete — or at least hasn't yet. But Warner Bros. very clearly wants to make a DC Universe that can rival Marvel's, and this could be a good place to start depending on how "Man of Steel" and "Pacific Rim" do.
"Pacific Rim" stars Idris Elba, Charlie Hunnam, Charlie Day, Rinko Kikuchi, Max Martini, Willem Dafoe, Robert Kazinsky, Clifton Collins Jr., Diego Klattenhoff and Ron Perlman. It's due in theaters on July 17, 2013.
What do you think of del Toro's "Justice League Dark" plans? Tell us in the comments section below or on Facebook and Twitter.