Guillermo del Toro wants a "Godzilla" and "Pacific Rim' crossover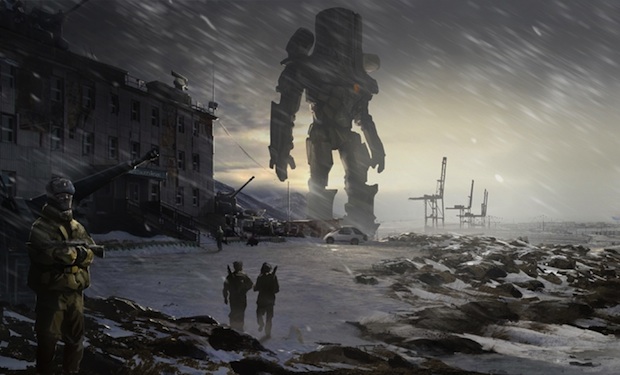 Posted by Terri Schwartz on
The Jaegers in "Pacific Rim." Godzilla in "Godzilla." Don't they seem like a match made in heaven for a future monster mash-up movie?
Guillermo del Toro certainly thinks so. The "Pacific Rim" director recently talked about the potential for a crossover between the two movies one day down the road because, after all, they're both produced by Legendary Pictures.
"So far with the ['Pacific Rim'] sequel, what we're writing, what we're creating, is very different, so there are no plans. Hypothetically, I would love the fuck out of it. I would love to see a Jaeger and Godzilla duke it out. That would be too much for the human brain," del Toro told Collider. "But I don't think there are plans on that."
He continued, "I don't even know what direction they're taking 'Godzilla' in. I know somewhat that it's grounded differently. 'Pacific Rim,' my aspiration was, the color, the saturation of color, was almost an acid-drip version of the heavy-metal coloring that I loved when Richard Corben was working there, when [Jean-Claude] Forest was working there. Super bright, super saturated, the crazy color and aesthetic. And 'Godzilla' is more realistic, somewhat. That's my thinking. That's what I've heard. I don't even know which way they're going."
"Pacific Rim" stars Idris Elba, Charlie Hunnam, Charlie Day, Rinko Kikuchi, Max Martini, Willem Dafoe, Robert Kazinsky, Clifton Collins Jr., Diego Klattenhoff and Ron Perlman. It's due in theaters on July 17, 2013.
Meanwhile, "Godzilla" is due in theaters on May 16, 2014. David Callaham, David S. Goyer and Max Borenstein penned the script and original Japanese creator Toho Studios is overseeing the project. Former "The Walking Dead" showrunner Frank Darabont worked on a rewrite. "Godzilla" stars Aaron Johnson, Juliette Binoche, Bryan Cranston, Elizabeth Olsen, David Strathairn, Ken Watanabe and original 1954 "Godzilla" star Akira Takarada.
Would you like to see a "Pacific Rim" and "Godzilla" crossover? Tell us in the comments section below or on Facebook and Twitter.