David Cross talks Arrested Development, Todd Margaret and Mr. Show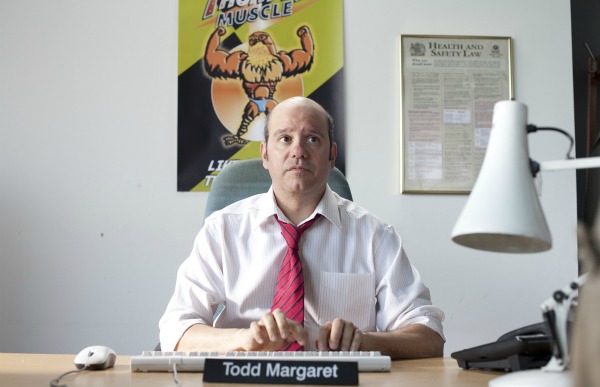 Posted by Melissa Locker on
Comedian and actor David Cross sat down with Salon.com to talk about his upcoming movie "It's A Disaster." The dark comedy, which also stars Julia Stiles and America Ferrera, shows what happens when a couples brunch that a group of self-absorbed thirty-somethings host each week is interrupted by the explosion of dirty bombs. (The film is available on video-on-demand platforms now and will be released in theaters April 12.) However, it seems that whenever Cross sits down to talk about a new project, all anyone wants to talk about (us included) is "Arrested Development" and his role as the flamboyant aspiring actor and analyst/therapist (or anal-rapist, if you prefer) Tobias Fünke. With the "Arrested Development" reunion about to happen on Netflix, Cross can't seem to escape the questions about "Arrested Development," no matter what he's promoting. However he assured Salon that he's "not a sad clown."
It's a great read that covers Cross' work on "Mr. Show With Bob and David" and, of course, "The Increasingly Poor Decisions of Todd Margaret." Here are some of the highlights:
As we're talking about this movie, I can only imagine you're gearing up for a bigger press push soon, as "Arrested Development" nears. How does it feel to be so strongly identified with a single show and character?

I appreciate the question. And it doesn't diminish my love and appreciation for it. I'm so thankful and lucky to have been given that opportunity, and it's an amazing show, it's an amazing character, there were great people to work with. But there are — it goes hand in hand with some people who've never seen "Arrested Development" and think I'm the guy from "Scary Movie 2″ and "Men in Black." Or "Alvin and the Chipmunks." Those people, a 16-year-old Puerto Rican kid doing figure-eights on his grinder bike, I don't give a shit if they've seen "Todd Margaret"!

But when it becomes constant, and builds up, I want to say, 'I've done other stuff! I'm glad you like it — there are other things you might like.' But it doesn't really, truly bother me. I'm not a sad clown taking off his greasepaint, asking, Why doesn't anyone know the real me?
Did you ever find a way to merge making money and feeling fulfilled artistically?

"Arrested Development" would be that project. With "Mr. Show," we didn't make any money. We didn't see a penny from DVD sales or any of that shit. The big movies that were lucrative, "Scary Movie 2″ and "Small Soldiers" and "Alvin and the Chipmunks": I didn't do them for the love of cinema. The one place it's come together was "Arrested Development." With "Arrested," it wasn't that my paycheck was so huge. That was three years of consistent work. You can make quite a living on that. And with the Netflix thing: That was lucrative. Not on the scale of a movie, but I certainly made a financial … well, I wasn't hurting, let's put it that way. I get that money and I do something like "Todd Margaret" and over two years, I lost money. But I loved doing that project and would do it again in a heartbeat if I could do another kids' movie.
Head over to Salon to read the whole interview.
And here's the trailer for "It's A Disaster":

Want the latest news from IFC? Like us on Facebook and follow us on Twitter@IFC