"Carrie" trailer teaser plays up the telekinesis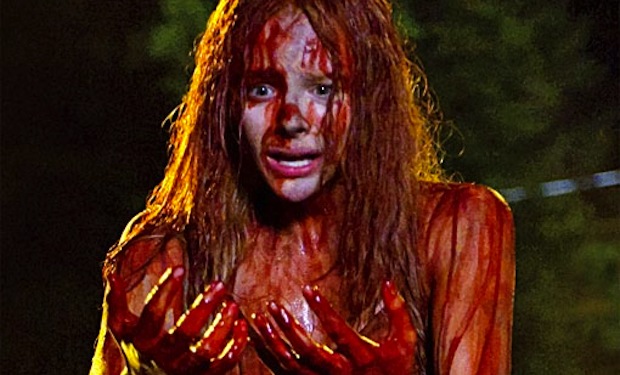 Posted by Terri Schwartz on
The latest footage from "Carrie" has been released, and it seems like the new Kimberly Pierce film is taking a different spin on the Stephen King classic. Chloe Moretz looks down right evil in one of the scenes, which come courtesy of Entertainment Tonight.
This video comes as a tease for the full-length "Carrie" trailer, which will hit the web on April 5. This is the first we've seen of the film since it was bumped back to an October 18 release date. We'll be interested to see how different it ends up being from the 1976 Brian De Palma classic.
When IFC caught up with stars Moretz and Julianne Moore back in January, Moretz teased how the telekinesis part of the story will come into play.
"If you look at it from a telekinetic point of view, I don't think that was used as much in the first film as in our film," she said. "Other people might be like, 'Oh, that's her downfall,' or you can argue with it, because it's not logical — 'Huh, I just moved you' — right? But here it's like, 'Wow, this might be who I am.' It's more of a sense of her becoming something. When she's overly happy, it comes out. When she's angry, it comes out. It takes her strongest emotion and multiplies it by a hundred, and her whole body tenses up and things move with her. When she's alone and in her own mind, she can thrive, and you smile."
Here's the official synopsis for the remake:
The quiet suburb of Chamberlain, Maine is home to the deeply religious and conservative Margaret White (Moore) and her daughter Carrie (Moretz). Carrie is a sweet but meek outcast whom Margaret has sheltered from society. Gym teacher Miss Desjardin (Greer) tries in vain to protect Carrie from local mean girls led by the popular and haughty Chris Hargenson (Portia Doubleday, Youth in Revolt), but only Chris' best friend, Sue Snell (Gabriella Wilde, The Three Musketeers), regrets their actions. In an effort to make amends, Sue asks her boyfriend, high school heartthrob Tommy Ross (newcomer Ansel Elgort), to take Carrie to prom. Pushed to the limit by her peers at the dance, Carrie unleashes telekinetic havoc.
What do you think of this new footage? Tell us in the comments section below or on Facebook and Twitter.