Carrie Fisher is training for "Star Wars: Episode VII"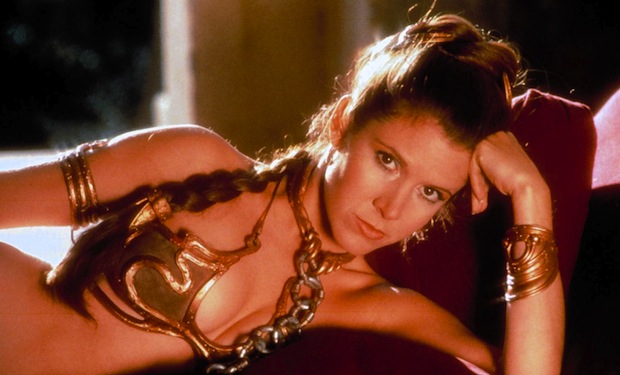 Posted by Terri Schwartz on
There still isn't any official confirmation about which original "Star Wars" actors will appear in "Episode VII," but it seems increasingly likely that Carrie Fisher will be one of them. She has repeatedly spoken about her involvement, and recently said at a talk at the Calgary Comic and Entertainment Expo that she's getting in shape for the role.
"I like being bought by Disney, because they never wanted to buy me before," the Calgary Herald reports Fisher said, via Coming Soon. "I'm glad they are doing a new movie because they are sending a trainer to my house so I can get in really good shape. So I'm really eating a lot of sugar in advance, as you can see. By the time I really get down to it I will have eaten everything."
She's made similar comments in the past and later rescinded them, so it remains to be seen if these pan out. But Disney seems to be creating a more and more solid plan for the upcoming "Star Wars" movies, so hopefully casting will start happening soon.
"Star Wars: Episode VII" is slated for a summer 2015 release, with "Episode VIII" coming out in summer 2017 and "Episode IX" hitting theaters in summer 2019. Meanwhile, two "Star Wars" spinoffs will come out in the summers between them, with one hitting theaters in 2016 and the other in 2018.
"When I met with Kathy Kennedy we just started discussing it and I was able to actually engage in the conversation," director J.J. Abrams recently said of the fact he could only start thinking about "Star Wars" after he was done with "Star Trek Into Darkness." "I went down to tell Katie, my wife, and I said 'I had just a very interesting conversation with Kathy.' That was the beginning. I will say that Steven [Spielberg] was very encouraging of 'Star Wars.' It's funny because I talked to him about it and it turned out he knew all about what was going on."
Do you want to see Fisher in "Star Wars: Episode VII"? Tell us in the comments section below or on Facebook and Twitter,