Bryan Singer reveals first look at Halle Berry in "X-Men: Days of Future Past"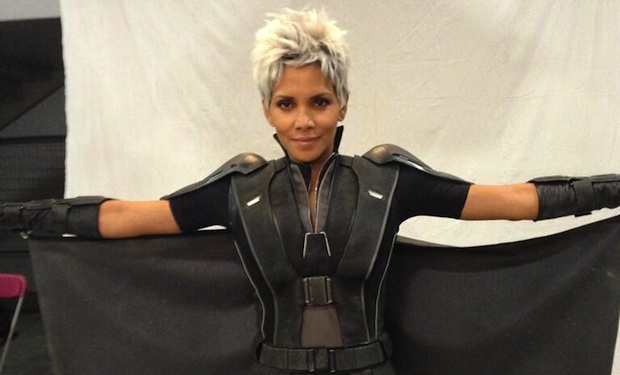 Posted by Terri Schwartz on
Bryan Singer is all about revealing as much behind-the-scenes info about "X-Men: Days of Future Past" as he can. His latest big tweet is a first-look at Halle Berry reprising her role as Storm in the upcoming movie.
Berry looks great back in the costume, and we like seeing her with her hair short again. This outfit is a bit different than the ones we've seen her sporting in the past, which could be because of the dystopian future her character is a part of. It's also worth nothing that the costume is very slimming and doesn't reveal Berry's growing pregnancy at all. Still, Singer better film her scenes quickly so that she doesn't start to show.
"Storm probably won't be as badass as she was going to be because we won't be able to do any fighting or flying or things like that," Berry said after her pregnancy was announced. "She'll be different than we originally planned her to be but I still think she'll be an integral part of this new X-Men movie."
"X-Men: Days of Future Past" features returning actors James McAvoy, Michael Fassbender, Jennifer Lawrence, Nicholas Hoult, Hugh Jackman, Patrick Stewart, Ian McKellen, Anna Paquin, Ellen Page and Shawn Ashmore, and newcomers Omar Sy, Adan Canto and Peter Dinklage. The movie is due in theaters on July 18, 2014.
The official plot synopsis says "the storyline alternates between present day, in which the X-Men fight Mystique's Brotherhood of Evil Mutants, and a future timeline caused by the X-Men's failure to prevent the Brotherhood from assassinating Senator Robert Kelly. In this future universe, Sentinels rule the United States, and mutants live in internment camps. The present-day X-Men are forewarned of the possible future by a future version of their teammate Kitty Pryde, whose mind traveled back in time and possessed her younger self to warn the X-Men."
What do you think of Storm's new look? Tell us in the comments section below or on Facebook and Twitter.