Benedict Cumberbatch and Chris Pine showdown in "Star Trek Into Darkness" clip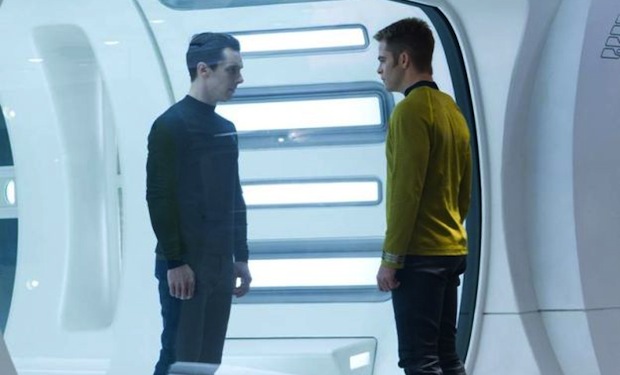 Posted by Terri Schwartz on
We've long been wondering what Captain Kirk and John Harrison had to talk about in the above photo, and now we know the answer. Paramount Pictures has released a new clip from "Star Trek Into Darkness" that shows Chris Pine and Benedict Cumberbatch's characters having a battle of wills, and it's awesome.
It's no secret that John Harrison is supposed to have a valid reason for his terrorist activities in the new "Star Trek" movie, and it seems like we get a tease of them in this clip. Cumberbatch's character gives Kirk coordinates to something he says will explain why he murdered people earlier in the movie, and also says that "72 reasons" why Kirk should go to that location are currently on the Enterprise. Sounds forboding.
Cumberbatch has proved time and again that he's a rising star to watch, and it looks like he's going to give quite the powerful performance in "Star Trek Into Darkness." The fact that he is motivated by what he views is a just cause just makes him all the more interesting. Hopefully this clip is a good sign of what fans have in store from him in the upcoming movie.
"Star Trek Into Darkness" is directed by J.J. Abrams and stars Pine, Zachary Quinto, Zoe Saldana, Simon Pegg, Anton Yelchin, Karl Urban, John Cho, Alice Eve, Cumberbatch and Bruce Greenwood. The film is slated to hit theaters in IMAX on May 15 and in regular cinemas on May 17. It's been revealed that over 40 minutes of "Star Trek Into Darkness" will be shown in IMAX.
What did you think of this latest "Star Trek Into Darkness" clip? Tell us in the comments section below or on Facebook and Twitter.