Behind-the-scenes of "Out There": Ryan makes movies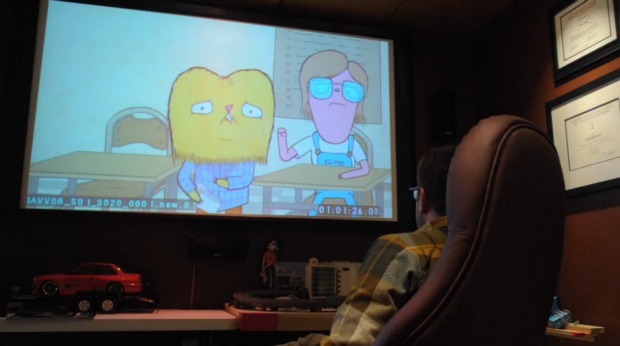 Posted by Melissa Locker on
Each week Ryan Quincy takes us behind-the-scenes of our animated series "Out There." But when we say behind-the-scenes, we don't mean into the room where he is drawing his characters or to watch color correction or even to see the awesome guest stars (Nick Offerman! Fred Armisen! Jemaine Clement! Megan Mullally! Ellen Page! Jason Schwartzman! Sarah Silverman!) do their magic behind the microphone. Instead, each week Ryan tells us the autobiographical stories that inspired the adventures (…er, misadventures) of Chad and Chris and all the other characters in the town of Holford. Because whatever Chris and Chad are going through, don't forget that Ryan wen through them first and much of what you see in "Out There" was inspired by the events in Ryan's life. For example, when Chris experienced stage fright and decided he wanted to make movies instead of speeches, well, Ryan did that first.
Watch the clip and then tune in Friday for a new episode of "Out There" at 10/9c:
video player loading
.
.
.
Want the latest news from "Out There"? Like them on Facebook and follow them on Twitter @IFCouthere.
"Out There" airs on IFC on Fridays at 10/9c