New "Arrested Development" outtake, still and posters arrive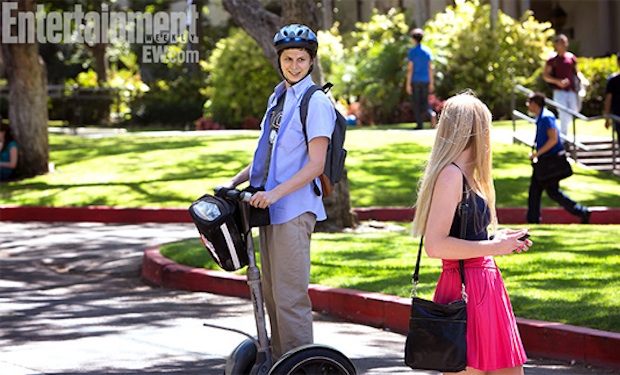 Posted by Terri Schwartz on
We have so many "Arrested Development" goodies for you today that you will likely immediately blue yourself.
Hot off the reveal of the show's new character posters, they have been released in all their shining glory. They all feature character-specific taglines about how viewers can stream the new episodes on Netflix, like George Michael's reading, "I'll see you in May, or whenever is convenient for you." Our favorite is the poster for Buster, because it has nothing to do with Netflix and simply reads, "Hey, brother."
Meanwhile, "Arrested Development" covers this week's Entertainment weekly. The magazine has three awesome covers touting the "Moment of Bluth," and also the new image of George Michael that can be seen above. It seems like his uncle GOB has taught him the wonders of Segways.
"This year is about the enduring entanglements of family," creator Mitch Hurwitz told EW. "They are 10 years older than when we met, so that means emotionally they're, like, two years older than we met them. Amazing things happen when one goes from being emotionally 12 years old to emotionally being 14 years old."
Will Arnett added, "It's the story of shame, cunning, thievery, dishonor, backstabbing, deceit, bold-faced lying, one-upmanship, psychological torture, lust, financial ruin, and magic, all supported by a very broad beam of dysfunctional love."
If that's still not enough "AD" for you in one day, EW has also debuted the season four outtake featuring Jessica Walter and Tony Hale that was shown at the TCAs Winter Press Tour and SXSW. Enjoy it here.
"Arrested Development's" fourth season has an incredible array of returning actors who guest starred on the show during its initial run. The list includes Ben Stiller, Mae Whitman, Andy Richter, Liza Minelli, Judy Greer, Ron Howard, Scott Baio and Henry Winkler.
In addition to the central and returning actors, newcomers Seth Rogen, Kristen Wiig, Isla Fisher, Terry Crews, John Slattery, Conan O'Brien and the cast of "Workaholics" will make appearances as well. Star Jason Bateman and creator Mitch Hurwitz are hoping to follow season four with an "Arrested Development" movie. Season four of "Arrested Development" premieres on Netflix on May 26.
What are you most looking forward to about "Arrested Development"? Tell us in the comments section below or on Facebook and Twitter.