"Arrested Development" character posters appear on the street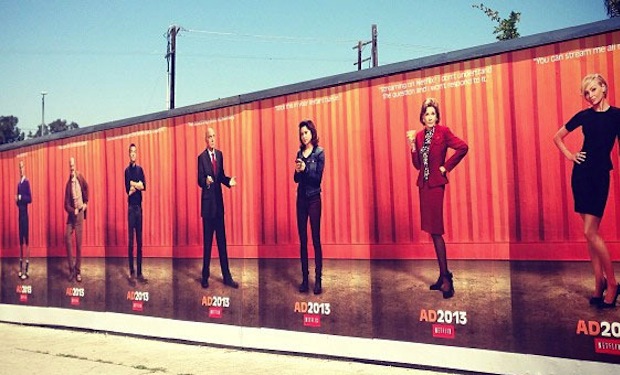 Posted by Terri Schwartz on
Los Angeles, get ready to blue yourself. "Arrested Development" billboards and character posters have been spotted around the city in anticipation of the upcoming fourth season of the hit show, while will air on Netflix on May 26.
One kind Redditor posted the above image, which shows the various new posters spread out down a Los Angeles street. They all feature taglines about the fact they'll be streaming online, with Lindsay's reading, "You can stream me all night long," and George Sr.'s saying, "No touching. Only streaming." Though Buster's tagline can't be read, it's worth noting that he still hasn't found a replacement for his hook hand. Cross your fingers that these will come to a city near you soon to help ease the final countdown to season four.
Netflix already released a slew of character posters earlier in April. Those feature inside jokes about each character in the Bluth family instead of actually showing what they look like. We can't complain either way.
"Arrested Development's" fourth season has an incredible array of returning actors who guest starred on the show during its initial run. The list includes Ben Stiller, Mae Whitman, Andy Richter, Liza Minelli, Judy Greer, Ron Howard, Scott Baio and Henry Winkler.
In addition to the central and returning actors, newcomers Seth Rogen, Kristen Wiig, Isla Fisher, Terry Crews, John Slattery, Conan O'Brien and the cast of "Workaholics" will make appearances as well. Star Jason Bateman and creator Mitch Hurwitz are hoping to follow season four with an "Arrested Development" movie. Season four of "Arrested Development" premieres on Netflix on May 26.
Have you seen any of these posters yet? Tell us in the comments section below or on Facebook and Twitter.