7 reasons why you should love David Koechner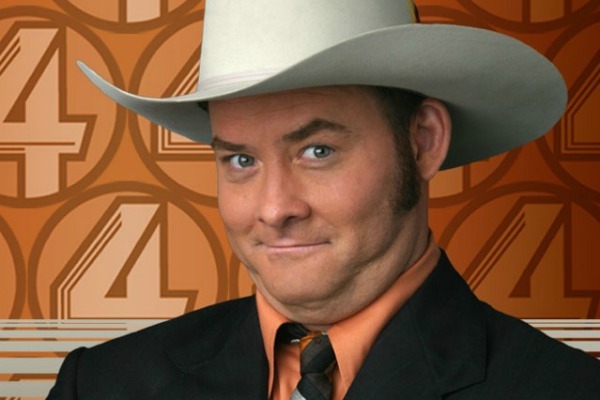 Posted by David Wolinsky on
Although I hate the phrase "comedic genius," I agree there are two types of comedic performers: those who are appreciated in their own time and become household names and those who are forever relegated to the "hey it's that guy!" status. David Koechner — the guy whose picture is above this chunk of text — is, unfortunately, a member of the latter camp. Although he consistently gets work, you probably only recognize him as Todd Packer from "The Office" and Champ Kind from "Anchorman," which, hopefully, tells even the most casual comedy fan that he gets tapped for parts by folks who know he can deliver. But still, most don't delve deeper into Dave, and they should: His penchant for making loudmouthed, arrogant jerks be sympathetic is right on the pulse of where comedy is heading. Here's seven roles/gigs he's had that should get you onboard.
---
1. "The Naked Trucker and T-Bones Show"
In this musical duo, Koechner plays T-Bones, the freeloading drifter to David "Gruber" Alan's (the guidance counselor on "Freaks and Geeks"), well, wiry truck driver who's very comfortable with his body. Believe it or not, the nudist plays the straight man to Koechner's character, who is obsessed with hip-hop, get-rich-quick schemes, and annoying the Naked Trucker, who would much rather be discussing philosophy and other high-minded topics. Skip their short-lived Comedy Central series and go straight to the pair's live album, "Live at the Troubadour," which showcases just how polished and absurd the band's performance is. T-Bones positively shines in "My Daddy Is An Astronaut" (he sings about growing up fatherless and believing that Buzz Aldrin is his dad) and "Hobo Holiday (2 Dollars)" (an eight-minute "hobo spiritual" about a strange orgy in a pie shop). Seriously, "Live at the Troubadour" is so powerfully funny it can transform a terrible day into a much more optimistic one after just a few minutes.
---
2. "Always Open"
What's so funny about Denny's launching a web series? Well, in theory, not that much. That Koechner hosts this "show" is its biggest saving grace, and also what makes it all the more head-scratching. Koechner cleans up his act considerably, so there are none of those filthy Packer stories here, and the result is something far, far goofier: He leans back on being excessively friendly and "wholesome," coming off more like an oversized kid hosting a show in a booth at Denny's than a grown man being paid to shill for a diner franchise. The "show" is nothing more than he and a comedian guest sitting down to a meal and them just riffing with one another. He seduces Maya Rudolph to lean over and talk under the table and they discuss whether people should sit like this all the time because it's "a whole new world." In another, he tries to convince Jason Bateman to hug him. When he refuses, Dave tries to treat his fear of physical contact with primal scream therapy. In a Denny's filled with real customers. It goes on and on like this with tons of other comedians who are all outpaced by him. It's not enough to make me want to go to Denny's, but I sure am glad this exists.
Watch Will Forte and Dave Koechner Repopulate the World
---
3. Roy's Vlog
Only the most super of Koechner super-fans probably know this exists: He started his own Vlog for a new character named Roy. He is, basically, a modern-day, male version of Cathy. Only, instead of talking about chocolate, he uses the word "vlog" way too much, gossips about cheesecake, explores the etiquette of booty calls, and explains why men can't get pregnant. It's like an SNL character that exists in the real world, but won't get fined exorbitant fees by the FCC for cussing about cheesecake and "skinny bitches."
---
4. Countless Show-Stealing Cameos
In a way, Koechner is like a more stable version of Bill Murray in the sense that you never can predict when he might up next when you're watching television. Although he hasn't been spotted crashing any NYC kickball games (yet), Dave has shown up suddenly in stuff as wide-ranging as "Comedy Bang! Bang!" "Reno! 911," "Curb Your Enthusiasm," "Austin Powers: The Spy Who Shagged Me," and the list can go on and on and on. What really speaks to his versatility is his popping up in "The Jamie Foxx Show" playing a horror author named Stephen Queen who's a take-off on the real-life — I don't really need to finish that sentence. But Koechner pours far more cleverness into that role with his over-the-top theatricality than the character's name implies or probably even warrants. Which is just a roundabout way of saying: He's always 100 percent funny, even when he doesn't need to be.