"300: Rise of an Empire" first images released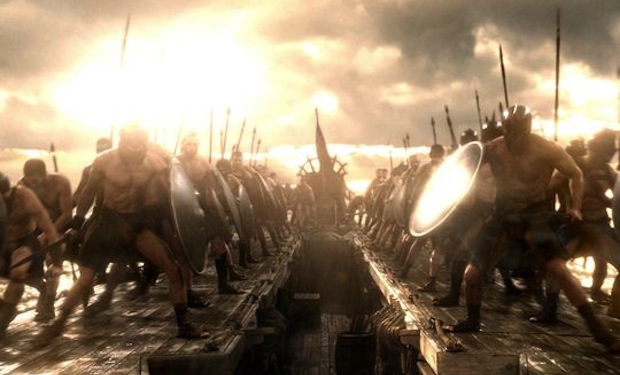 Posted by Terri Schwartz on
The new images from "300: Rise of an Empire" might make the movie look very similar to its predecessor, "300," but director Noam Murro promises it's anything but.
"['Rise of an Empire'] is tied visually to the original, [but] there is a whole different choreography of fighting and war," he told USA Today.
The new images released show "Rise of an Empire's" open sea battle and at its leading man, Themistocles. Murro said Themistocles is a different brand of hero than "300's" King Leonidas.
"Themistocles is battle-scarred and a warrior, but at the same time he's a politician. He's not the king. He has to rule in a democracy. It's a different complexity of character," Murro said. "These people don't want to fight, they even say that they are not Spartans. They are common people who have to do this to not be in under the rule of a dictator. This is not a duplicate movie or a cookie-cutter. It's a very different story to tell in keeping with the original flavor of '300.'"
Rodrigo Santoro will reprise his role as Xerxes in "Rise of an Empire," while Eva Green will play Artemisia, Sullivan Stapleton will play Themistocles and Jamie Blackley will play Calisto. Though Gerard Butler won't be back as King Leonidas in this flick, Zack Snyder and Kurt Johnstad wrote the script so it will tie in to "300."
This new movie acts as a prequel of sorts to "300." While part of the flick takes place before the previous film, other parts run concurrently to it. "Rise of an Empire" follows Xerxes' rise to power as he is manipulated by the goddess Artemisia.
What do you think of these first looks at "300: Rise of an Empire"? Tell us in the comments section below or on Facebook and Twitter.