"300: Rise of an Empire" first look at Eva Green's Artemisia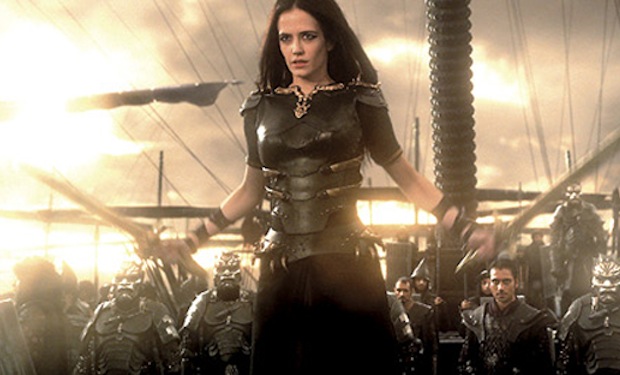 Posted by Terri Schwartz on
We've already met "300: Rise of an Empire's" Themistokles, so now it's time to meet Artemisia. The first image of Eva Green's character in the upcoming "300" sequel has debuted, and Artemisia looks like a total badass.
The character is the second-in-command in Xerxes' army who wants to settle a blood score against the Greeks who killed her family when she was just a child. The first look at Green comes courtesy of Entertainment Weekly (uploaded by PopCulturology, and the magazine says Themistokles is Artemisia's sworn enemy.
"She's kind of a Lady Macbeth/Cleopatra character. She's obsessed by vengeance and wants to go to war with the Greeks," Green told EW. But when Artemisia meets Themistokles mid-battle, things change. "He's my archenemy, but there's a very strong attraction," she said. "If they'd been in another kind of situation, it might have been a romantic story."
In the recent USA Today story about "Rise of an Empire," leading man Sullivan Stapleton said of Artemisia, "She does most of Xerxes' dirty work in this film. She's seeking revenge, and she does it well. She's a force to be reckoned with."
Director Noam Murro added of the character, "She's got sex appeal, she's ruthless and conniving. All the things that kill men. And she has a sword. I wouldn't mess with her."
Rodrigo Santoro will reprise his role as Xerxes in "Rise of an Empire," while Green will play Artemisia, Stapleton will play Themistokles and Jamie Blackley will play Calisto. Though Gerard Butler won't be back as King Leonidas in this flick, Zack Snyder and Kurt Johnstad wrote the script so it will tie in to "300." This new movie acts as a prequel of sorts to "300." While part of the flick takes place before the previous film, other parts run concurrently to it.
What do you think of this first look at Artemisia? Tell us in the comments section below or on Facebook and Twitter.