17 incredibly awesome movie prosthetics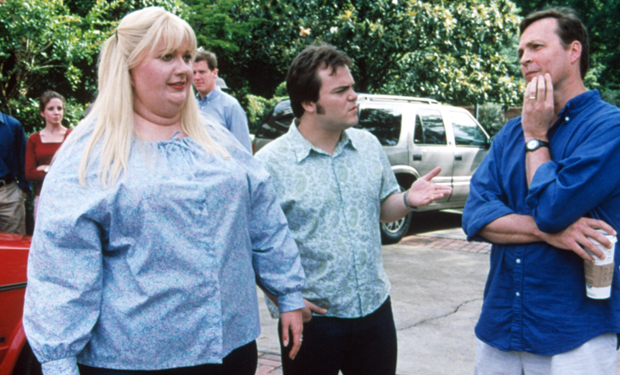 Posted by IFC on
7. Rebecca Romijn, "X Men"

It took Rebecca Romijn anywhere from six to twelve hours to get the lifelike second-skin look for X Men's Mystique. The reason why it looks so real is because much of it is; Romijn had prosthetic scales glued directly to her naked body. Source.
Photo courtesy of 20th Century Fox/Everett Collection
---
8. Joseph Gordon-Levitt, "Looper"

Usually when directors need two actors to play the older and younger version of the same character for a film, they find actors who look alike. For the role of Joe, make-up artists took two months to design a series of facial prosthetics for Joseph Gordon-Levitt to wear to look more like Bruce Willis since the two have radically different face shapes. Source.
Photo courtesy of TriStar Pictures/Everett Collection
---
9. Chris Elliot, "Scary Movie 2"
The infamous "strong hand" worn by Chris Elliot's creepy character Hanson was actually one of five different prosthetics used throughout the movie. Elliot claims to have one on a bookshelf in his home as a souvenir from the set, *shudders*. Source.
Photo courtesy of Dimension Films/Everett Collection
---
10. Robert DeNiro, "Frankenstien"

Robert DeNiro had to wear full body prosthetics to achieve a look of multiple corpses sewn together to become Frankenstein's monster. It's a departure from the typical bolt-in-the-neck, green-fleshed "Frankenstein" from years past, but fans of the novel appreciated the close interpretation of the original text. Source.
Photo courtesy of TriStar Pictures/Everett Collection
---
11. Selma Blair, "A Dirty Shame"

Yes, they're fake. Stripper Ursula Udders's cartoonish boobie balloons cost $2,500 apiece and were difficult to wear, says Blair. Scenes had to be shot quickly, as the hot lights often caused the silicon to crack and flake during filming. Source.
Photo courtesy of New Line Cinema/Everett Collection
---
12. Eddie Murphy, "Coming to America"

Leave it to Eddie Murphy to bring whiteface comedy to the mainstream. His portrayal of an old Jewish man named Saul required so much prosthetic work (and beige concealer) that even Murphy was taken aback by his transformation. Source 1. Source 2.
Photo courtesy of Paramount Pictures/Everett Collection