10 movies you've never heard of starring pro wrestlers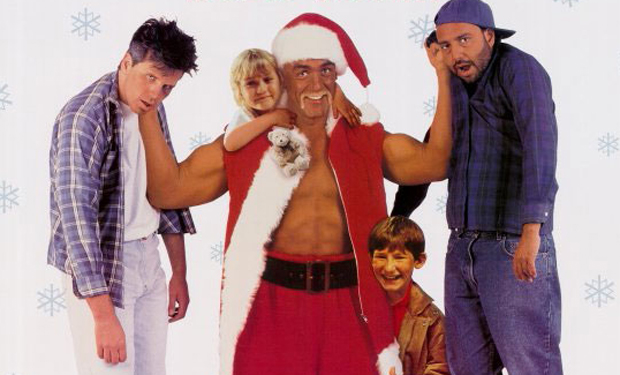 Posted by Andy Hunsaker on
6. "Knucklehead" (2010)
On the opposite side of the spectrum from splatterhouse action, we've got this ridiculous comedy starring Paul Wight, aka The Big Show, aka The World's Largest Athlete. Here, he's playing a wacky 35-year-old man-boy who accidentally destroys the orphanage he's lived in all his life, and has to figure out how to overcome his nice-guy demeanor in order to become a fighter and make the money needed to rebuild his home. We've also got "Royal Pains" star Mark Feuerstein as the fight guy (and it should be noted that Wight has guest-starred on that show as well) as well as "The Office" vet Melora Hardin, who strips down and throws down. Definitely an attempt at an Farrelly-style schtickfest, as evidenced by the 'can't fit in the bathroom on the bus' mess.
---
7. "The Marine" (2006)
The WWE's current top name is John Cena, who has an casual charm on the microphone while being relatively easy on the eyes, judging by the lady response in the audiences. Naturally, they've tried to make him the crossover star that Johnson is, but it hasn't quite taken. For one, Cena gets booed a lot by fans even though he's a good guy, because he kinda seems like a pandering dingus – or as rival CM Punk once called him, "the New York Yankees" of wrestling. The highest profile attempt at this was his first film, an action movie about a military man who returns home from Iraq and finds he has to rescue his wife from Robert Patrick. It's a boilerplate concept that WWE Films has tried to duplicate with two sequels, each with a different wrestler in the role – Ted DiBiase Jr. and ex-"Real World" star The Miz – but Cena is certainly no Rock. Not even Renny Harlin's "12 Rounds," Nickelodeon's "Fred: The Movie" or joining an ensemble like "The Reunion" have changed that.
---
8. "The Condemned" (2007)
Cena can't quite pull a Rock, and neither could Johnson's contemporary in the ring, Stone Cold Steve Austin – who I defy you not to think of whenever you go to a Cold Stone Creamery. He was the industry's biggest star (the wrestling industry, not the ice cream industry), and he had a recurring role on "Nash Bridges," even. He's solid in supporting roles, such as the racist prison guard in Adam Sandler's remake of "The Longest Yard" and as a guy for "The Expendables" to beat up, but his starring roles haven't taken him anywhere. His first one was a take on the ever-popular 'unwilling participants forced into deathmatches' genre, where he starred as a guy who has to fight his way out of a Salvadoran prison. It seems wrestling movies favor the action genre, as you might expect from other Austin-starring movies like "Damage," "Recoil," "Tactical Force," "Hunt to Kill" and "Knockout."
---
9. "Bounty Hunters" (2011)
Wrestling is not exclusively a boy's club, and Trish Stratus, recent inductee into the WWE Hall of Fame, is proof of that. So it stands to reason that one of the most popular "diva" wrestlers of all time could try to make the jump to feature film stardom, too. Her feature film debut was originally entitled "Bail Enforcers," but that sounds like a county courthouse clerical gig, so they changed it to "Bounty Hunters" on DVD. Trish stars as, well, a bounty hunter, whose team has to decide whether or not to turn one of their captives over to a mobster. This leads to extended, ridiculous catfighting in an ambulance.
---
10. "Ready to Rumble" (2000)
You may have heard of this one, but it's highly likely you haven't thought about it in years. There's no wrestler in a lead role, but the sheer amount of wrestlers in it make up for that – "Diamond" Dallas Page, Goldberg, "Macho Man" Randy Savage, Sid Vicious, Perry Saturn, Booker T, Sting, Bam Bam Bigelow, Disco Inferno – hell, the whole thing is based within real-life wrestling promotion WCW (and may have contributed to its downfall). Arquette and Scott Caan are starring in full crazy mode as weirdos who believe wrestling is real, and who seek out their idol Jimmy King (Oliver Platt) when he's cheated out of the championship. The promotion for this movie involved Arquette actually becoming a pro wrestler – even winning the WCW championship, which is something the fans despised with a passion. For a while in the 1990s, WCW was a huge threat and almost put the WWE out of business, but the worm had most certainly turned by this point. However, this movie has David Arquette fighting Randy Savage in a convenience store, so its existence is completely justified. Suplexes abound!
---
What is your favorite obscure wrestler starring movie? Tell us in the comments below or on Facebook and Twitter.