10 movies you've never heard of starring pro wrestlers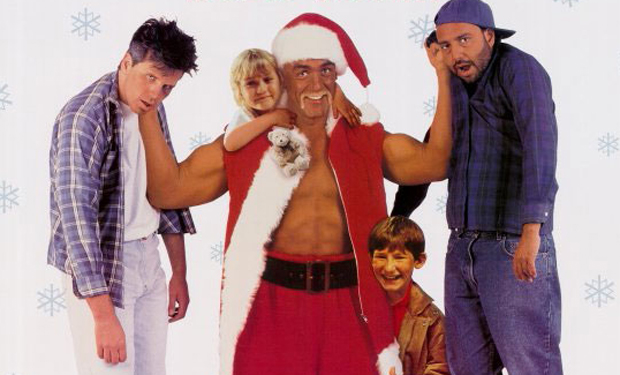 Posted by Andy Hunsaker on
It's the year of Dwayne "The Rock" Johnson. Aside from a stint as WWE Champion and headlining Wrestlemania, we've seen him in "The Snitch," "G.I. Joe: Retaliation" and "Pain & Gain" so far. Once upon a time, though, a professional wrestler starring in movies would have been considered a lame joke – outside of Hulk Hogan's goofy stint in "Rocky III" and "Rowdy" Roddy Piper headlining John Carpenter's "They Live." But The Rock isn't the only wrestler who's tried to make their bones as a movie star, but he's obviously the only thing close to a bona fide success. To better illustrate why that's so impressive, here's a list of ten movies you've likely never heard of which feature pro wrestlers in leading roles. It ain't all that pretty.
---
1. "Hell Comes To Frogtown" (1987)
Outside of Dwayne, I think we can all agree that Roddy Piper has the best film out there with a wrestler in the lead role – we all love "They Live." However, that doesn't mean that The Rowdy One got off scot free as far as cinematic disasters go. In this film, he plays Sam Hell, one of the last fertile males in a post-apocalyptic wasteland riddled with mutant frogs, and he's captured by a militant group of nurses, fitted with a chastity belt/bomb to force him to follow orders, and then he's charged with heading into Frogtown to free a group of women being used as sex slaves, so that he can impregnate them instead. See, his name is Hell, and he goes to Frogtown. This time, his extended fight scene isn't with Keith David, but a guy in a frog mask.
---
2. "Santa with Muscles" (1996)
Piper's biggest adversary in his wrestling heyday was Hulk Hogan, arguably the most famous wrestler of all time. He scored big as Thunderlips in "Rocky III," scored his own starring role in "No Holds Barred," which even brought Tiny Lister into the squared circle for a while as the incoherent Zeus. The subsequent attempts to cash in on his fame cinematically were very iffy, however, including "Suburban Commando" and this holiday comedy, which has perhaps the lamest title ever. Hogan sports a shorter version of his trademark mustache, as well as disconcerting fake hair covering his infamously bald head, as a jerk millionaire who gets amnesia while wearing a Santa Claus outfit and thinks he's actually Kris Kringle. Then he has to stop Evil Ed Begley Jr. from harvesting magical crystals under an orphanage. Okay. Keep an eye out for a young Mila Kunis as well.
---
3. "Santa's Slay" (2005)
Perhaps the polar opposite of "Santa With Muscles" is this horror comedy, starring WCW legend Bill Goldberg as murderous version of St. Nick. It seems he was actually a demon who lost a curling match to an angel and was thus forced to deliver presents to children for 1000 years – but now, time's up, and the Anticrhist's murder spree is in full effect. We've also got Robert Culp and Emilie de Ravin along for the sleigh ride.
---
4. "Abraxas, Guardian of the Universe" (1990)
Jesse "The Body" Ventura certainly made a name for himself not only in Arnold Schwarzenegger movies like "Predator" and "The Running Man," but also with his improbable victory to become the governor of Minnesota. But did you know that he was also an intergalactic cop trying to stop a renegade officer named Secundus from finding the Comator in order to unlock the secrets of the Anti-Life Equation in order to grant himself omnipotence and immortality? No. No, you probably didn't. The Comator (Co-Mater?) happens to be a little boy who was conceived and born on the same day when Secundus touched an Earth woman's belly. Will this odd family teach Abraxas the meaning of humanity? Probably. Jim Belushi won't be any help, though, as he plays the worst principal ever.
---
5. "See No Evil" (2006)
In the modern era, World Wrestling Entertainment has their own film division, trying to see if they can't duplicate the success of The Rock. Their first effort was this slasher movie starring Glenn Jacobs, aka Dr. Isaac Yankem (the evil dentist) and better known as Kane, The Big Red Monster. Standing seven feet tall, Kane is an imposing figure – and in the ring, he usually sports an ominous mask, but even his regular face has an aura of evil about it, making him a fine choice to play an eye-gouging psycho named Jacob Goodnight. Borrowing pages from "Psycho" and "Friday the 13th," Goodnight was made a monster by his mother.