10 horror comedies (that are more comedy than horror)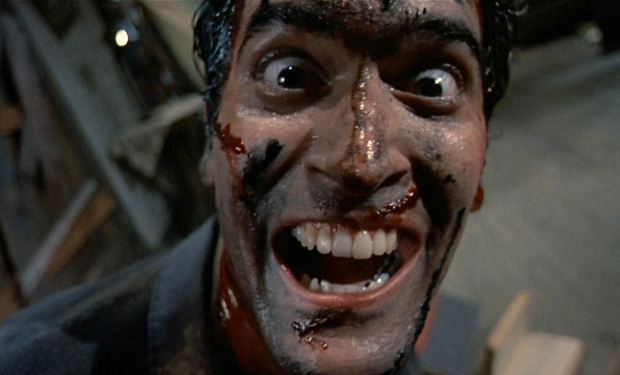 Posted by Andy Hunsaker on
5. "Dead Alive"
Peter Jackson cut his teeth on crazy cult horror comedy action, and this film, originally entitled "Braindead," is chock full of wild slapstick madness involving a domineering mother to the Norman Bates-esque Lionel Cosgrove turning into a zombie at the hands of the Sumatran Rat-Monkey and Father Jon McGruder, the Kung-Fu Priest who kicks ass for the Lord. If that isn't enough to get you chuckling, you're probably reading the wrong list.
---
6. "Slither"
When Nathan Fillion, Elizabeth Banks, Jenna Fischer and Michael Rooker get together to do a horror movie, you know it's not going to be straight-faced. Rooker is Grant, a car dealer who gets possessed by an alien parasite and slowly morphs into a weird alien hive-mind controlling massive amounts of grody space slugs that infect everybody in town, and his wife Starla (Banks) and her childhood crush Sheriff Pardy (Fillion) scramble to find a way to stop it – and it gets icky fun when Starla tries to get close to Grant after the disgusting transformation.
---
7. "Killer Klowns from Outer Space"
Firmly in the B-movie class, this Chiodo Brothers takes this ridiculous concept and makes it pretty unnerving. Does anyone actually enjoy clowns earnestly anymore? They pretty much only exist for lame birthday parties and freaking out people with coulrophobia. Even with the grotesque alien klown designs here, the fact that they can make balloon animals come to life keeps us squarely rooted in laughs instead of scares.
http://www.youtube.com/watch?v=2saJnAoa2Rg
---
8. "House/House II: The Second Story"
With crazy, over-the-top rubbery creature masks and makeup, William Katt's 1986 journey into a haunted house drives him wild with visions of his dead army buddy Ben (Night Court's Richard Moll) while his nosy neighbor (Cheers' George Wendt) thinks he's nuts. In keeping with the 1980s Thursday night sitcom theme, "House II: The Second Story" introduces Norm's buddy Cliff (John Ratzenberger) as Bill Towner, Electrician Adventurer, who's seen enough tragedy and disaster to make you want to upchuck in your shorts.