10 horror comedies (that are more comedy than horror)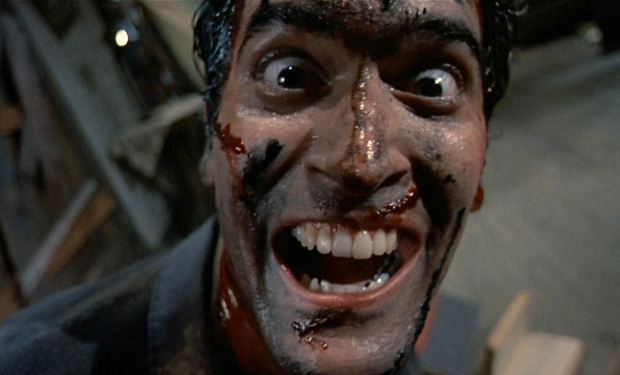 Posted by Andy Hunsaker on
You may think that the "horror comedy" is a relatively new phenomenon, now that we're all post-modern and ironic these days, but the long history of B-movie schlock horror pictures are classics for all their campy laughs as much as for their ghoulish imaginings. If we were to list all of those, you'd be reading for days. Yet, comedy is an intrinsic part of the horror genre, necessary in order to keep these films entertaining and not so much like audiences are paying to revel in human suffering and terror. There are often comic elements at play in standard horror movies, but then there are those films which take the tropes of scare flicks – zombies, vampires, monsters of various stripes, stalkers, what-have-you – and swing the equation far over toward the funny side rather than the frightening one. The macabre in service of the guffaw. So here's a list of ten horror comedies which are much more comedy than horror.
---
1. "Evil Dead 2/Army of Darkness"
We have to start here, with Sam Raimi's enduring cult favorite saga, as it's a perfect example of the progression from horror to horror comedy to comedy. The first "Evil Dead" was a straight-up horror film, creepy and disturbing. Then, Raimi went back and essentially remade it for "Evil Dead 2," but made it more hysterical than skeevy with a man's fight against his own possessed hand. Then came "Army of Darkness," which was so over-the-top with Bruce Campbell's chainsaw-handed S-Mart maniac Ash being thrust back in time and in the midst of undead magic wars that there wasn't anything actively scary about it – except maybe the extent of Ash's inner madness.
---
2. "Shaun of the Dead"
Edgar Wright's film about a group of British slackers with enough personal problems to make a zombie uprising feel like an inconvenience was a breath of fresh air. Simon Pegg's performance as the title character, oblivious to the zombies at first and then comically inept in his attempts to fight them off once he does notice them, is charming enough to make the fact that the whole movie becomes something of a dramedy in the third act work well enough to earn itself a deserved cult following. They've also been wise enough not to try and dilute its effectiveness with sequels (yes, we are mildly concerned about "Anchorman 2").
---
3. "Fido"
You know you've got a solid yukfest on your hands when Billy Connolly is playing a child's pet zombie. In a version of the 1950s where zombies happened, but are able to be controlled with special collars from the Zomcon company and used as household servants, nice fenced-off suburban communities thrive in a surreal way – that is, until Fido's collar malfunctions and a fresh outbreak takes hold of the town of Willard. Exaggerated suburban satire and ridiculously inappropriate hijinks ensue.
---
4. "Tucker and Dale vs. Evil"
This Sundance hit is an ingenious turn-around of the whole 'creepy yokels in the woods' genre, making the standard group of attractive young roadtrippers into the paranoid bad guys, always assuming the worst of well-meaning country boys Tucker (Alan Tudyk) and Dale (Tyler Labine). A series of escalating accidents surrounding the campers' attempts to "rescue" their friend Allison (Katrina Bowden) result in increasingly gruesome deaths that serve to really freak out our hillbilly heroes.
http://www.youtube.com/watch?v=RFFh25DmPNU