What to watch this Sunday on IFC: "Sixteen Candles," "The Breakfast Club," and "American Pie"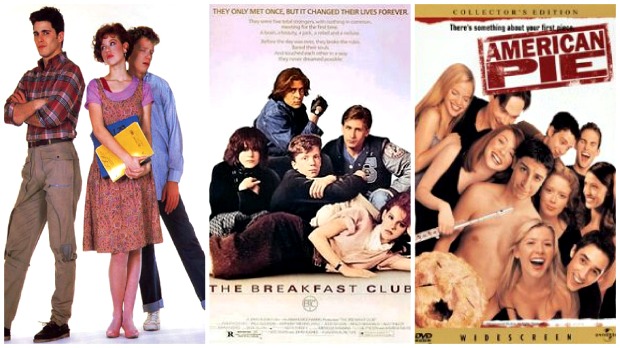 Posted by Melissa Locker on
High school sucks and we have the movies to prove it. Tune in to IFC on Sunday for a reminder of why you are so glad to be done with that chapter in your life when we show the John Hughes high school classics "The Breakfast Club" and "Sixteen Candles" back to back starting at 2/1c. Then we are showing the movie that spawned a franchise and a million copy cats too, "American Pie" at 9/8c.
We are kicking off trip down awkward high school memory lane with "The Breakfast Club" where a Saturday morning detention turns into a bonding experience for a jock (Emilio Estevez), a criminal (Judd Nelson), a brain (Anthony Michael Hall, a princess (Molly Ringwald) and a basketcase (Ally Sheedy). It's a movie filled with strangely poignant moments as the stereotypes and pressures that plague high school students are explored between five people with nothing in common except a detention room. Plus it will have you humming the Psychedelic Furs "Don't You Forget About Me" all day and that's never a bad thing.
Next we're showing another John Hughes classic: "Sixteen Candles" starts at 4:15 p.m. ET. This film also stars Molly Ringwald this time as a high school sophomore who falls for the prom king, Jake Ryan (Michael Schoeffling). Thanks to an unlikely series of events on her birthday and a little help from the self-proclaimed King of the Nerds (Anthony Michael Hall) her birthday wish might just come true.
Finally, it's the laugh-out-loud gross-out comedy that spawned a million spin-offs and sequels "American Pie" at 8/7c. If you ever wanted to know where the phrase, "This one time at band camp" came from or for the chance to peek inside the mind of a hormonally-charged high school boy, now's your chance.
Want the latest news from IFC? Like us on Facebook and follow us on Twitter@IFCtv
"Sixteen Candles" airs on IFC on Sunday, Mar. 17 at 4:15 PM ET and Monday, Mar. 18 at 2 AM ET; "The Breakfast Club" airs Sunday, Mar. 17 at 2 PM ET and at 6:45 PM ET; "American Pie" airs Sunday, Mar. 17 at 9 PM ET and Monday, Mar. 18 at 12:00 AM ET