This week in comedy podcasts: WTF with Marc Maron, Comedy Bang! Bang! and introducing Put Your Hands Together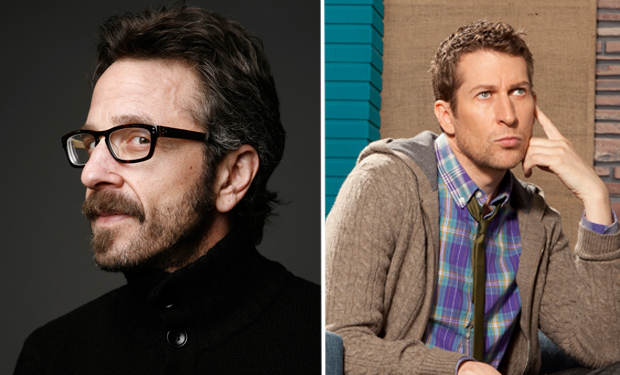 Posted by Melissa Locker on
This week on WTF with Marc Maron, Marc talks to Adam Parfrey, the publisher of Feral House books and curator of the Apocalypse Culture series, who opened the minds of many unsuspecting readers to the weird, the marginal, the obscene and the mysteries of the world hidden in plain sight. Marc talks with Adam about the connections between Freemasons, Manson, JFK and more. On Thursday, Marc talks to WTF repeat visitor Ari Shaffir. Have you subscribed to WTF on iTunes yet? WTF? Do it.
On Comedy Bang! Bang! The OC's Adam Brody and guest co-host/high school junior Traci Rearden go on a spiritual journey to the far off land of Comedy Bang Bang! They talk about piercings, surfing, and what their 50 year plans look like. Also on the agenda is a visit from spiritual medium Shelby Orangina who stops by to discuss her venture into the drink business, helps everyone communicate with those who have passed on to another realm, and use her abilities during a game of Would You Rather. Sign up on iTunes.
There's a new comedy podcast joining iTunes this week: It's Put Your Hands Together, the first-ever weekly stand-up comedy podcast. The show from Cameron Esposito and AST Records is recorded each week live at UCB LA, during the Put Your Hands Together live show, the podcast promises to provide a look into LA's thriving alternative stand-up scene, capturing 75 minutes of standup sets and backstage interviews with the best and brightest comics working today. Exclusive to the podcast are Cameron's backstage interviews with performing comics who give the inside scoop on their craft, plus news on brand new material be it an album, a special or a tour. Some of Put Your Hands Together's fantastic guests include Kyle Kinane, Bobcat Goldthwait, Aziz Ansari, Jimmy Pardo, Nick Thune, Maria Bamford, Paul F. Tompkins, Bruce McCulloch, Kurt Braunohler, Jen Kirkman, Nate Bargatze, Rory Scovel, The Sklar Brothers and more. It's raw and it's free and you can subscribe to it on iTunes.
Want the latest news from Comedy Bang! Bang!? Like them on Facebook and follow them on Twitter@comedybangbang and use the hashtag #cbbtv.
Maron premieres on IFC on Friday May 3 at 10/9c; Comedy Bang! Bang! returns to IFC this summer