"The Hobbit: There and Back Again" now coming out in December 2014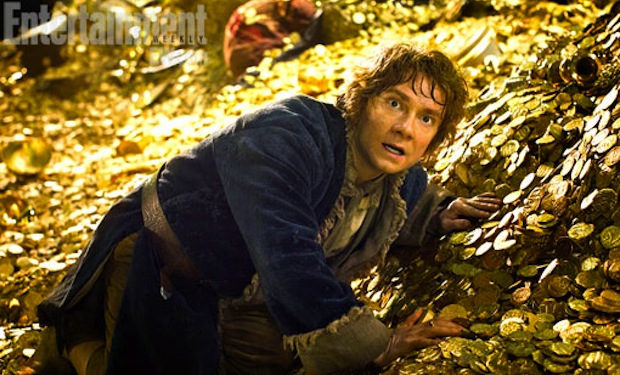 Posted by Terri Schwartz on
The final "The Hobbit" movie just got pushed back to a more expected release date. "There and Back Again," originally slated to hit theaters on July 18, 2014, will now be due out on December 17, 2014.
Deadline has the official release date news, and also notes that no other movie has claimed the December 17 slot as well. "There and Back Again" would have been the only one of Peter Jackson's six "Lord of the Rings" movies to not come out in December. Honestly, it makes more sense for this to come out on the new date than it did for it to hit theaters in July.
Originally there were only supposed to be two "The Hobbit" movies, but Jackson announced back in July that he felt there was enough content to squeeze out a third. Thus "The Desolation of Smaug" was born, and "There and Back Again" was pushed back to summer 2014.
Thus far, all we've seen of "The Desolation of Smaug" is the above image that was released back in December. Screenwriter and producer Philippa Boyens told Entertainment Weekly of the dragon Smaug, "The dragon is a huge, wonderful, amazing part of the story, but it doesn't end there. Everyone can suspect there's a rather large battle in film three."
Are you disappointed you need to wait longer for "There and Back Again," or did you expect this change? Tell us in the comments section below or on Facebook and Twitter.