SXSW 2013: What to do on Saturday March 9 inc. Scott Aukerman, Comedy Bang! Bang!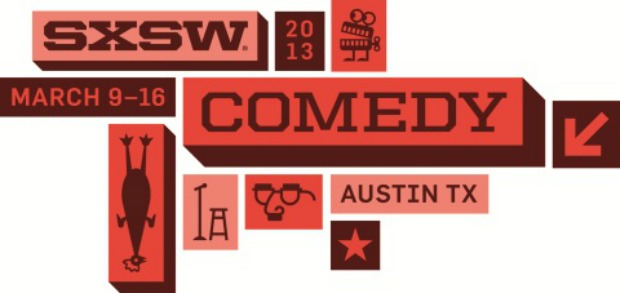 Posted by Melissa Locker on
Between the panels, the official parties, the day parties, the unofficial parties, the events and the live podcast recordings, there is a lot to do at SXSW. There's no doubt that the SXSW schedule can be pretty overwhelming. The Interactive schedule alone is the size of the phone book of a municipality that still uses phone books. So we're here to help you navigate the best comedy events and parties happening at SXSW 2013. (And don't forget you can always check the IFC Crossroads House schedule here.)
Here's what to do at SXSW on Saturday March 9th:
Comedy Bang! Bang! Live Podcast Recording
6 – p.m. at Esther's Follies
Comedy Bang! Bang! is doing a live taping of Scott Aukerman's must-listen podcast. The show blends interviews, games, and inspired character bits with guests Martin Starr (Freaks & Geeks), James Adomian, Reggie Watts, Ken Marino, Natasha Leggero and Rob Huebel. The shows are always high-spirited and laugh out loud funny. Don't believe us? Show up and if you don't crack a smile, we'll buy you a Grumpy Cat doll.* (*offer not actually valid anywhere because they don't make Grumpy Cat dolls, trust us, we've looked)
IFC Presents Comedy Bang! Bang! Standup Showcase
8:30 – 10 p.m. at IFC Crossroads House
IFC's Comedy Bang! Bang! hosts an all-star showcase with Scott Aukerman, Reggie Watts and friends, promising a night of offbeat and amazing comedy with maybe even a few previews of the show's upcoming second season returning to IFC this summer.
SXSW Comedy Opening Party presented by IFC and JASH
10:30 p.m. – 1 a.m. at IFC Crossroads House
The opening night celebration kicks off SXSW Comedy 2013. Featuring new YouTube channel, JASH's standup showcase with Sarah Silverman and Reggie Watts with a party to follow.
Want the latest news on IFC's happenings at SXSW? Check the schedule here. Like us on Facebook and follow us on Twitter @IFCsxsw