SXSW 2013: Ryan Quincy on "South Park," "Out There" and autobiographical storytelling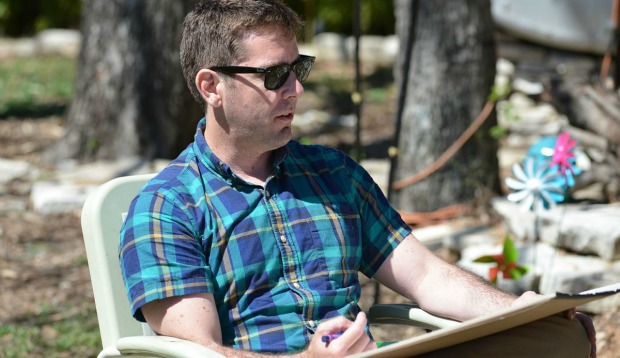 Posted by Melissa Locker on
If you haven't watched our new animated series "Out There" yet, you are missing out on one of the most evocative high school shows since "Freaks and Geeks." The adventures (and more typically misadventures) of Chad and his best friend Chris living in the small town of Holford are so reminiscent of adolescence and pre-adult post-child existence it can be a bit painful to watch, when it's not making you laugh out loud. The show stems from the mind of Ryan Quincy, who also voices the lead character, Chad. While Ryan has been pretty open about his awkward high school years, we sat down with him at SXSW to dig for even more dirt. We talked about shotgunning beers, raising kids and casting "Out There."
Hi Ryan, have you been to SXSW before?
No, this is my first time. This is my first time to Texas, even.
Really? Have you had a Lone Star beer yet?
I did! I had two last night.
Did you shotgun them in true Texas style?
I didn't. I wasn't hanging around with the right people to show me how that's done, I guess.
Apparently not. Do you live in New York or LA?
LA.
What's the comedy culture in LA like these days?
It's pretty diverse. The UCB Theater. Justin Roiland, who is a cast member on our show is from there. A lot of the cast members like Kate Micucci and Megan Mullally and Fred Armisen of course are from diverse parts of the comedy scene. I like that we got a diverse cross-section of the alt-comedy culture for our show.
When you were casting the show did you seek people out to be in the show?
Yes. Fred was top of the list for the Terry character and Megan Mullaly was one of the first people to sign on. Pamela Adlon, well, the whole cast is so versatile. We were looking for people who could do more than one voice. But originally I wanted to have kids to do the voices, like the Charlie Brown stuff. But Kate Micucci won us over as Jay and then Justin Roiland and myself do the other kids. But casting itself is tough. You generally have an idea of what you want – and I wanted to do more naturalistic voices and not cartoony broad voices.

You worked on "South Park" before and now you're creating "Out There," what draws you to working with cartoon children?
I think it's just that age where you are on the threshold of childhood and adulthood. For the South Park kids, they are eight-year olds and will probably always eternally be eight. What I've found more interesting with 14- and 15-year old is there's just more angst and melancholy and also more humiliating stories to get through at that age.
How much of "Out There" is drawn from your personal experience?
A lot. It's very autobiographical. About every episode there is something mined from my teenage-hood. I passed out in Sex Ed class. There was a blizzard that cancelled Halloween, so they postponed it to the spring and we did trick-or-treating in the spring and that's one of the episodes. I bragged to my dad that I could drive when I was 14 and he said, 'Alright let's see if you can do it' and he handed me the stick shift and I drove it into the neighbor's fence and I ran out crying and left my dad to deal with it. So there's been a lot of stuff. It's been kind of cathartic to deal with it and have an outlet for some of these stories.

Has it been cathartic? Or is it more like painful reliving?
It's been cathartic. It's been good. It's been fun to see the stuff come to life.
We've been asking everybody to share awkward high school memories, but I feel like you've been pretty open about them already.
Yeah, but there are always more. I was just telling someone about taking this girl to a dance and I worked at a Dairy Queen at the time and I was the only boy who worked there and I think the girls – They were kind of bully girls, mean girls – and I think they all kind of had a crush on me. They knew I was taking this girl to the dance. While I was in the dance, they took all the whipped cream and hot fudge and everything from the ice cream store and decorated my car with it and it just looked like a banana split on wheels. I walked out to that with my date.
What did your date say to that?
She was really embarrassed. It was just really bad and awkward.
Where did you grow up?
Small town named Holdridge, Nebraska, about 5000 people.
How many were in your high school?
About 350. My class had about 90 people.
Have people in your town reached out to you about the show yet?
Oh yeah. Everyone wants to identify with who it is in the show. They say, 'Oh that's so and so' or 'That's me!' but there's no one really specific. It's all cobbled together. I've used some names, like Johnny Slade, there's a guy I went to high school with whose last name is Slade, so he thinks that's him. It's funny, but on Facebook a lot of them will use the character pictures and use them as their profile pictures. I think it's been fairly positive. It's more or a love letter or a tribute to growing up there and those people and those experiences.
Did you feel at the time like you were having an awkward high school experience or is it only in retrospect that you realized that?
I am always having an awkward experience. I don't feel like my awkward years are over. I still do stupid things. I just feel like that's my lot in life. High school was extra weird.
You have kids now, right?
Yes, I have a son who is eight and a daughter who is five.
What are you going to do when they hit high school?
I'm going to be really over protective. It's not going to be pretty. I feel like I'm going to be very paranoid, like I'm going to be following them. It's not going to be good. I need to prepare myself. I feel like they're at these ages where we're past the diapers and sleepless nights and we're in a nice period, right now, but then it's going to get nuts. We'll see. I'll do my best to guide them.
Where did the idea for "Out There" come from?
It was based on growing up in a small town in the Midwest. I made a lot of home movies growing up, just stupid stuff. Hanging out at the 7-11, setting stuff on fire, just the things that happen when you're bored in a small town. We never come out and say it, but it predates computers and cell phones. I am also a big fan of "Over the Edge" – Matt Dillon's first movie – I wanted to do an animated version of that. Something that has angst and melancholy, but is still funny. But it's also about two best friends. It's about that first real friend you have, a best friend. That bond is kind of the precursor to all your relationships. I wanted to do something about two best friends.
Do you have one of those from real life that this is based on?
Yeah, yeah, there are a few of them, but they are kind of Frankensteined together, made up of all different parts. Sadly, my best friend died the day after I found out "Out There," the day after I pitched it back in 2008, I found out that my best friend died of a brain aneurysm and I never got to tell him. "Out There" is dedicated to him and his memory.
Want the latest news from Out There? Like them on Facebook and follow them on Twitter @IFCouthere.
"Out There" airs on IFC on Fridays at 10/9c