SXSW 2013: Reggie Watts on Google, high school traumas and hair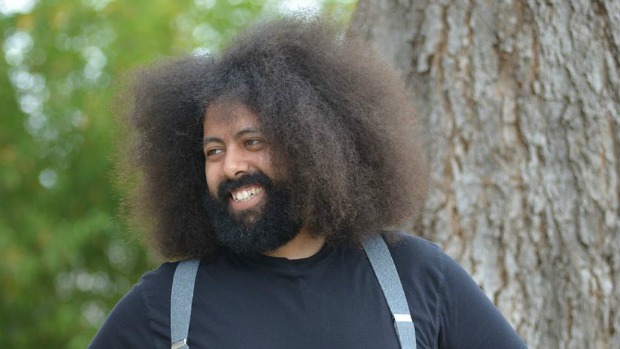 Posted by Melissa Locker on
When we heard that Reggie Watts was in Austin for a bunch of shows at SXSW 2013, we tracked him down and made him talk to us. What else do we have to do with our free time as we wait for the second season of Comedy Bang! Bang! to debut sometime in the third quarter of 2013? Besides, Reggie is one of the most interesting, innovative and fun comics around, seamlessly melding music and comedy into a show that never fails to impress. That's why he gets invited places like the TED conference, The Conan O'Brien Show, Late Night With Jimmy Fallon, and even to join LCD Soundsystem as a special guest during their final NYC shows. In short, if you get the chance, you should definitely talk to Reggie.
What has your SXSW experience been like so far?
Yeah basically, airplane, car service, hotel, walking, car, and then here.
Have you had a breakfast taco yet?
I have not had a chance to have a breakfast taco yet. I need to get on those traditional things. I would really like to see a movie at that Alamo Drafthouse.
Your Instagram feed is notoriously inscrutable. You never have any context for any of your pictures and you never respond to people. Is that a choice or just a chance?
I don't know. What started it was Tumblr. I would post photographs there and I liked the idea of not having a caption because it just is the photograph. I want people to enjoy the photograph. But people would ask, "What's the context?" "Where is this?" and stuff but it's not that hard to figure out. When you see me posting a tweet that says, "Boy Austin is great." And then you go to Instagram and see a picture and you can guess that it's probably Austin. I just want people to figure it out for themselves. It's also just easier. I just capture the experience and post it and don't worry about it.
You are already a comedian and a musician. Do you feel like Instagram – and photography in general – gives you another creative outlet?
Yeah for sure. I love photographs. I love taking photographs. When I see something that's great, I want to capture that. You put it out there and on a place like Instagram you can put it there and review it later. It's also sort of a travelogue of experiences. Even though some of them are abstract they capture a moment or a place that I was. That's just awesome for me. I really enjoy that. It's a record of where things are in my life. It's cool to have that and have it be there forever …until the end.
Speaking of where you've been, what were some of your favorite Reggie Makes Music segments?
You and Michael Cera and pie all in one video piece is a recipe for perfection.
You and I and pie. You know, he's a really great musician. He kinda started out as a musician. I found a student film that he did a soundtrack for. I wasn't looking for him at all, I can't even remember what I was looking for, and I found this video and I clicked on it and it was this weird kind of psychological thriller style short that was obviously done by film students on some campus somewhere – really young cats – and I looked at the end and the credits and there was score by Michael Cera and I was really blown away. I sent him the link and he was like, "How did you find that?" and I had no idea. But, yeah, he was great. I really enjoyed Jon Hamm. It was so cool that he was just, "I'm gonna do this," and he was so laid back and lackadaisical. It was great.
Who did you like on season two?
There's a spoken work piece that was great and Rashida Jones, of course.
What's your go-to karaoke song?
First of all, I hate karaoke.
How can you hate karaoke?
I can't stand it. I think it's because I perform on stage already and why would get on stage and perform again. Even though it's not fully a performance. It's more like people getting up and celebrating their favorite songs in a really serious way. It's a really communal thing and it revolves around drinking and I don't drink so for me it's just watching people go up and sing over a backing track and other people coming up to me and saying you should do it because you're a singer.
Okay, fine. So what's your shower song?
I would have to say maybe Whitesnake "Is This Love," I think.
Whitesnake did "Cherry Pie" too, right?
No that was Poison.
No, it was Warrant!
They did "she was only 17…" Right?
[Producer Sady pipes in, "That was Winger. According to the internet."]
Ah, The Google-ist. There has to be a show like that.
Person 1: "How do we solve this?"
Person 2: "Hold on."
Person 1: "You're just looking it up on Google."
Person 2: "Yes, because I'm the Google-ist."
What was the most awkward high school experience you are willing to recount publicly?
I was in football and I used to have long tail, like a rattail with a little bit of ribbon tied into it. It was really thin. High school football used to have this no long hair policy because obviously you can get hurt. And it was literally just a few long hairs, but apparently it bothered the team so one day in the locker room a couple of guys grabbed me and then they cut off my tail. And it was so…I was so bummed. How was this legal?
It probably wasn't.
Well back in the 80s anything was legal. It was so terrible. It was kind of being violated.
Do you channel those high school experiences into your comedy now?
Mostly the good experiences. In high school I was mostly …
You were on the football team!
Yeah! Although I was on the football team because I wanted to experience the different iconic social classes of high school. So football for me was an attempt to socially integrate in an interesting way. And then I didn't like it anymore and stopped doing it and focused more on drama and science and other forms of art and music.
When did you really start playing music?
Music I started playing when I was five. I was taking piano lessons. I had always done music – Violin in the school orchestra, private lessons, piano lessons, singing for fun. I have been doing music for a long long time. But drama was something I had dabbled in in elementary school. I wrote a play in elementary school, but in junior high not so much drama, more breakdancing. Then in high school I came back to it.
Have you and Questlove ever had a hair off?
When I met him I was wondering, too. I met him in the mid-90s when I was in my band Maktub and he was a big fan of the band kind of promoted it on the early internet days on blogs before they were known as blogs. I met him a few times on the road and at one of our shows in Philadelphia so I've known him for awhile and I thought he was a really cool cat. I thought our hair would be the same, I wanted it to be, but it's really not. I think that the memory that people have of what Questlove looks like is …if you would see us side-by-side there's no similarity in what we look like. He's got a tight afro, because he has really tight curls and my hair isn't even the same kind of hair. A lot of my friends, like close friends ask me about that and if you saw us together there's no resemblance. My hair doesn't get small.
Want the latest news on IFC's happenings at SXSW? Check the schedule here. Like us on Facebook and follow us on Twitter @IFCsxsw
Want the latest news from Comedy Bang! Bang!? Like them on Facebook and follow them on Twitter@comedybangbang and use the hashtag #cbbtv.