SXSW 2013: Marc Maron on podcasting, poetry and the joys of having a really invested audience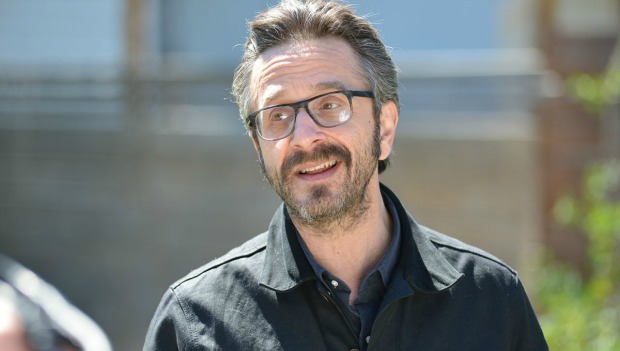 Posted by Melissa Locker on
As you may have heard, we are bringing comedian and podcaster Marc Maron to the small screen and we couldn't be more excited. The show, "Maron," debuts this spring with ten episode all based on Marc's life and, of course, his successful WTF podcast (which you should just subscribe to already.) Each half hour episode chronicles Marc's day-to-day struggle to maintain relationships other than the ones with his podcast audience and his beloved trio of cats. "Maron" premieres Friday, May 3 at 10:00pm ET/PT on IFC. We talked to the podcasting legend, author and soon-to-be television star about high school, poetry and what to do when an interview gets away from you.
I put out a call on Twitter for questions for you and for some reason the number one thing people wanted to know was when you were going to propose to your girlfriend. Is it strange having people be so involved in your personal life?
Sometimes it's very strange, yeah. But I don't really know what else I would talk about. People knowing that much about my personal life is a little weird, but I try to temper it a little bit. It's tricky, but …I don't know when I'm going to propose to my girlfriend. I think they are asking that because I was talking about rings and what not, so I have to go find out what she wants. Apparently that's the way it's got to work with this one. Her biggest fear is that I would go out and buy a ring that she doesn't like. But, yeah, it's a little bizarre, but I think it's exciting to have that many people co-dependently involved in your life.
How does your girlfriend feel about the casting of her on the TV show?
She felt alright about it. She saw most of the audition reels and this Nora [Zehetner (Mad Men, Grey's Anatomy)] seemed to look more like her and in the reel there was a nuance to what she was doing that my girlfriend definitely approved.
Did you aim for realism in casting in general?
Yeah, I think we did. The assistant character doesn't really exist. My assistant is part-time and she's a woman, but my dad certainly. Judd Hirsch looks like he could be my dad. Sally Kellerman kind of looks like my mom and Nora looks a bit like Jessica. But it's weird. You can't have the same expectations out of someone portraying somebody as you can of a real person. It's always sort of weird to sort of judge her behavior against the real girlfriend. We were more performed with the performance than looks.
What is one awkward high school experience that you're willing to recount in public?
It feels like that there are a lot of them.
Where did you go to high school?
Albuquerque, New Mexico. Highland High.
What's their mascot?
The Hornets. I wasn't very invested in all of that. I never went to a game or anything. But one awkward experience that I remember is when I was probably a senior in English class and we were writing poetry and it was an assignment and I had a job down by the university so I was very on the pulse of what intelligent grown-up people were doing. Being an artist and whatnot. I just remember that I wrote these poems about my love and my heart and virginity and stuff and we read them out loud. The teacher was like, 'Well, that's very good, Marc.' He was this funny little guy. But the class was like, 'What is he doing? Why is he talking about that?' But in retrospect I think it's pretty true to what I do and what I'm still doing.
Do you still write poetry?
Sometimes. If necessary. Sometimes if you can knock out a good poem while you're trying to "get in." I think poems still work for courting with certain gals.
Is that how you got your girlfriend?
Not this one. This one was …well, not that kind of poetry.

Have you ever had an interview just get totally away from you?
Yeah. [waits a beat] Did you want more information than that?
Yes please. Were you trying to get something out of someone and they just wouldn't budge?
It's not really about trying to get something out of someone. It's more like not being able to engage in conversation. If people are kind of filibustering you and really dictating the narrative of the interview it's hard to stop it, depending on who it is. Sometimes, with the people I interview, it can be very entertaining, but sometimes you just need to engage a little bit. It's never a negative thing, but it's not a conversation. It's more like you turn them on and they go. But some of those have been great interviews, but they weren't necessarily conversations. Like JB Smoove he just goes. Henry Rollins just goes. Bob Zmuda just goes. Then it becomes more challenging. You have to look for the gap to send them down another thing. If they continue to dictate it, they might just have that sort of personality where they just go but then you try to get them to go over here instead.
You recently had Mel Brooks and Carl Reiner on your podcast? Was that a dream come true or am I projecting?
It was pretty amazing, but you start to wonder how you're going to have something authentic happen. I'm always afraid that there's going to be some sort of narrative with public especially those who have been public people for years they have a series of stories. They have stories that they like to tell and some of those stories you want them to tell, but other times you want to get it into the moment. It becomes tricky. When I'm entering an interview situation, I'm not that starstruck. I don't know why that is 'cause I am outside of the interview. In general, I put celebrities on pedestals. I still do, I always did. But once I'm there it's like 'he's a guy, he's just a guy and we're going to talk to this guy,' which helps. Yeah, it was a dream come true, but the challenge for me is that I wanted it to be authentically my conversation with them.

Did you feel like you were able to accomplish that?
Yeah, I do. More so with Mel but enough things happened during the Carl Reiner thing– phone calls and whatnot – that it worked with both of them.

What did you do before you had Twitter and podcasting to fill all your time?
I don't know. Napping, driving around, writing things down. I find it a little disconcerting that I don't write as many things down. I think Twitter eats up a lot of that impulsive idea thing. I just thought of that just now. I should probably pull back a little bit. You're dumping so much of yourself in all these different mediums, what are you really keeping for yourself to try and make more of? I used to constantly have notebooks that I used to scribble in. I don't really scribble any more. It must be because of Twitter. I really want to save every one of my tweets. I guess you can save them, but I can't seem to get them all the way back. I actually asked a guy at Twitter, 'Can you get me all of my tweets in a book?' and he never did. I imagine they are all in there somewhere.
In between the podcast, your new book and your upcoming TV show, what's next? Are you one of the people who thinks about what's next?
I am more content than usual. I'm trying to get my hour together to tape a standup special. I'd like everything to start having its own life and hope that people dig it. Maybe pull back a bit and take it easy and figure out what I want to talk about. I don't have a big what's next. I don't have a big project. It would be fun to do some more acting, but I really need to focus more on the standup again, specifically. Free my mind up to do that. Maybe get a new house.

I heard you say last night at the Q & A about "Maron" that you like the house they built for you for the show more than you like your own house.
It just had better furniture. I really like my house, but the truth is that it's a small house and I'm living with somebody. Apparently women, I don't want to be specific, but apparently women like their own bathroom. I run my show out of my house and she's got all her shit in there and I have Ben Stiller over and I don't think Ben Stiller is going to go through her shit, but something's you just want to keep private. I get it. I get that it might be nice to have a bathroom that would just be for us. But I love it. What am I going to do move my garage? Maybe I should purge everything and Feng Shui that shit. I have no idea what that means, but it sounds good, though.
You should pre-order Marc's new book "Attempting Normal" and
Want the latest news from IFC? Like us on Facebook and follow us on Twitter@IFCtv
"Maron" premieres on IFC on Friday, May 3 at 10/9c