SXSW 2013: Gethard's Trailer: Wiffle Ball Rivals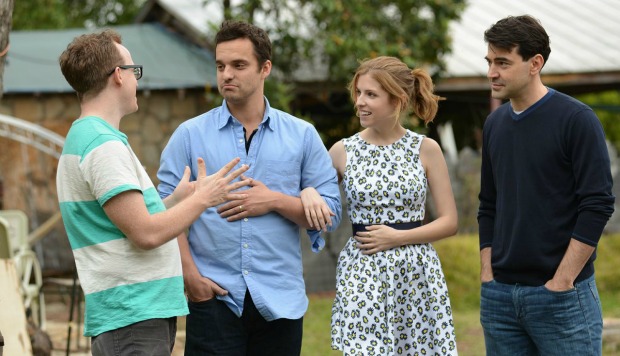 Posted by Melissa Locker on
During SXSW, Jake Johnson ("The New Girl"), Anna Kendrick ("Pitch Perfect"), and Ron Livingston ("Office Space") stopped by Chris Gethard's trailer to talk about their new film "Drinking Buddies." The movie, which also stars Olivia Wilde, revolves around the relationship between Johnson and Wilde who both work at a craft beer company. They are friends, but they could be something more if they weren't dating other people. While that sounds like standard rom-com fare, under the watchful eye of director Joe Swansberg the film is so much more and the the cast of "Drinking Buddies" was at SXSW to help promote the film. However, when they came to talk about the movie with our adopted comic, Chris Gethard, what Kendrick and Livingston didn't know was that they were walking into the middle of one of the greatest wiffle ball rivalries of all time and, much like in "The Highlander," there can only be one wiffle ball champion.
Watch as the cast of "Drinking Buddies" gets sucked into the great Johson/Gethard wiffle ball showdown:
video player loading
.
.
.
Want the latest news from IFC? Like us on Facebook and follow us on Twitter@IFC