SXSW 2013: Fred Armisen on SXSW, "Out There" and "Portlandia"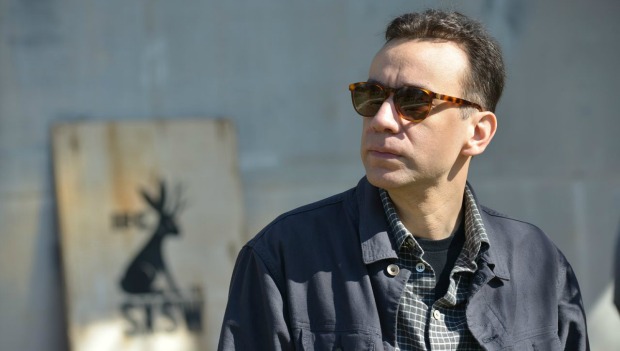 Posted by Melissa Locker on
"This is Fred Armisen. I'm in a car right now with Melissa Locker. " Thus started our chat with "Portlandia" star, writer and creator Fred Armisen who we cornered at SXSW 2013. We were going to talk about SXSW and his work on "Portlandia" and "Out There," but Fred quickly took control of the interview and used it as a platform to cast unfair aspersions at one of IFC's lovely and kind publicists. Please note, he was kidding and none of it is true. Comedians, man.
Hi Fred, you haven't been to SXSW since …
Were you sort of nervous about coming back or excited?
Excited really. I really liked it back then and I have very vivid memories of how nice it was. So yeah I'm excited! If I had more time I'd go look at more stuff, but I'll take it. I'll take this little time.
If you liked it so much, how come you didn't come for 12 years?
There's a very black and white answer in that every time I've wanted to go, it's been a SNL week. Every single year, it's been like, 'oh maybe this would be a good year to go' and then I always have to work. For some reason the timing worked out this year so I could go. And I've been on the show 11 years so that's it.
Right, because the SXSW tape was your starting point.
Yeah, that tape was my entry point into comedy, into the life I have now. It was definitely my starting point.
Is this in some ways a victory lap?
A little bit. It's funny, because when I came to SXSW originally I had this attitude that was very cynical. I was going to make fun of the idea that you had to come to a music festival to make it in music. There were all these panel discussions and I was like, what? I was kind of upset about how my music career had gone. But ironically it actually was the place I had to come to be successful, for lack of a better word. There's success in everything even you haven't quote-unquote made it. In my book, in the way that I see things, I really did have to come to Austin.
What are you going to do now that you're back?
Well, Hallie, who is one of the publicists at IFC is very sadistic and I said to her, "I would like to walk around and do stuff," and she said, "No, I am setting up back-to-back interviews." I was like, "Well, it would be nice to walk around and do stuff." And she was like, "NO. I've worked my whole life trying to get your show on the air." And I was like, "You didn't put my show on the air! You do publicity!" And she said, "You don't even know how IFC works!" So I said, "I do know how IFC works! You don't have the right to do that!" So she said, "Well if you're not going to do anything then I'm not going." So I said, "I want you to go to Austin, I want you to go and enjoy it." And she was like, "Thank you." and crying a little and I said, "Don't cry!" and she said, "I'm not crying about you, I'm crying about other stuff in my life." And I was like, "Okay okay let's just go do these interviews." And she said, "One of them is with Melissa Locker," and I said "That's fine. That's good. I'll do that."

So what you're going to do in Austin is back-to-back interviews.
Yes, back-to-back interviews.
Because Hallie made you.
The thing with Hallie I think is that it's more about how she wants to be connected to me. I get that a lot actually. People want to be connected to me.
This is why you're not on Facebook or Twitter, because your friend requests would be overwhelming.
That is one of the reasons. The other reason is that I can't find it online.
Yes, Facebook is extremely hard to find online.
I've Googled it but then …nothing.
You were at the Prince tribute concert at Carnegie Hall the other night.
Yes, there were actually a couple of them. There was a sort of rehearsal for the show and then an actual show.
Rumor has it that Prince is going to be performing this Saturday for the first time ever at SXSW
Really?
So are you going to stay now?
God, how strong is the rumor?
Very strong. He's reportedly going to be playing with a 22-piece backing band.
God, wow. You know they said he was going to be at the Carnegie Hall thing, they said he was going to be at the after-party and he wasn't, which is what I like about him, that he's a mystery. I've seen him a bunch of times and he's amazing. He's just amazing.
Have you met him?
Briefly at SNL. You know I'm always a Prince fan.
You are providing the voice of Terry on "Out There." What has that been like?
That has been really really fun because they showed me what he looked like first and it was kind of like he had this hippie look to him instead of the stereotypical Latino character. Which I think is a good version of someone who is Latino. There are a bunch of people in the Southwest who are hippies as well as Latino. It's been really fun and I go to the recording studio and they kind of guide me along. I've been watching it recently and I'm really happy with the way it all came out. They put a lot of love into it and that's really cool. It's just such a nice optimistic show and I'm really psyched about it. Then they asked me to voice a teacher and I did that too. It's just the kind of stuff that I love to do.
Voice over work?
Yeah, there's something very gratifying about doing a little bit of work and then everybody does the rest of the work. All the voices, all the animation.
So, you like getting the credit for other people's work?
Yeah, it's cool. It's been really great. I think it's nice that there is no cynicism on "Out There"
Because Portlandia isn't cynical.
No, it's not. And I think it's kind of a nice thing for IFC where there is this kind of vibe where there isn't very much anger. And I know Marc Maron seems that way, but he's actually an optimist. He would never say that, but there's something about Marc Maron that is really optimistic.
"Out There" is obviously based in high school, so what was your high school experience like?
High school was really good! I grew up in Long Island, in Valley Stream and it was really nice. We had physically a really nice school, good teachers. I had a good time with my friends. We were a bunch of weirdos. I was really into punk. We were close enough to New York City that we got to go to the City all the time. I had a really good time.
Did you have one high school experience that was awkward?
There was one junior high school experience, where we were given an assignment to write about what we would do if it was the last day on Earth. Everyone was writing about how they would go visit their grandma and I was like, 'that is SO lame!" I don't know if I was trying to be funny or what, but I said that I would go to the main street in Valley Stream and smash all the windows and light the buildings on fire. When you're 14 or 15, that's how teenagers think! But they sent me to the school psychologist and it sucked because my mother got worried and I had to do all these tests. They were these written tests and they made me feel crazy because I was alone taking these tests while class was going on. So that was sort of traumatic, but in retrospect it was the first time I started getting like studio notes on the work I was doing.
Want the latest news on IFC's happenings at SXSW? Check the schedule here. Like us on Facebook and follow us on Twitter @IFCsxsw
Photo credit: Rebecca Brenneman/IFC