SXSW 2013: Five minutes with Eugene Mirman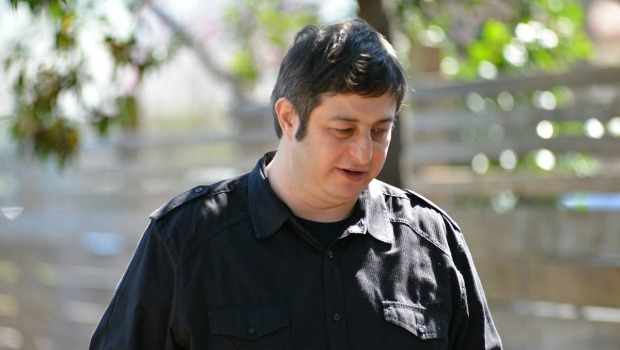 Posted by Melissa Locker on
Eugene Mirman is a busy man, especially when he's at SXSW. So we jumped in the car and chatted with him for the five minutes it took to drive from the Driskill Hotel to his next gig.
Hi Eugene, thanks for letting us hitch a ride with you.
Oh sure, so are car interviews your thing?
No, no you just didn't have time for a sit-down interview.
Ah! I have been doing a lot of interviews, but I thought this was your thing. "Oh we do car interviews!" and I was like, 'Okay that sounds fine,' but it isn't. It's not that you do car interviews. This is great, this is good, I'm glad we're doing it anyway.
You're a veteran of the Austin scene down here. How many SXSWs have you been to?
I've done the last 13.
Wow, 13? You're an expert then.
I don't know if I'm an expert at going to a music festival. But I think in 2000 my website was nominated for Best Humor Site or something like that and I came down with my friend who had designed it and we were like, 'Oh this is very fun. We should come back.' So I did. I may have even done a show somewhere that first year, but since then I have been coming back and doing shows every year. Before they ever added comedy, I would just put on a show before the music festival started and use that show's money to finance staying here.
Do you have certain things you really like to do while you're here each year?
Walking around South Congress is always lovely. There's a handful of restaurants – although sometimes they change – that I try to go to each year. Like Franklin Barbecue and this Japanese place called Uchiko, which is really awesome, so I might try and do those things, but mostly it's just coming to see friends who are in LA or live somewhere else. It's a great chance to catch up with friends, basically.
What are you doing here this year?
Just a bunch of car interviews.
Car interviews are where it's at! I'm going to make this my thing.
Just seven back-to-back car interviews.
No one else gets to do car interviews! It's my shtick now.
This is how it's going to start for you. You're going to become the greatest car interviewer ever. I'm interviewing They Might Be Giants today.
Oh they are great! Are you a They Might Be Giants fan?
I am.
Which album?
I'm a fan of several albums, actually. It would be funny if I was like, "Only Lincoln, after that, what happened to them." But I am a fan of them. They are a band I liked a lot in college, so this is fun. Flood was a great record, Lincoln, classics! John Henry, I think that came out while I was in college. So I'm interviewing them tonight and I did two shows yesterday and I'm going to go see stuff and eat at some places. Like Franklin Barbecue, which is right there [pointing as we drive past]. You have to go at 9 or 10 in the morning, but it's the best. Literally the best.
Here's the question we've been asking everyone: What is one memorably awkward high school experience?
What's an awkward high school experience? High school is all awkward, so I don't know. I have sad stories from elementary school, so maybe this will suffice. When I was in sixth grade I had a collie and it was a very pretty collie that I had for about six months, because it got hit by a car.
I don't like this story at all, Eugene.
We had to go to the vet while my parents were away, with this collie dying next to me, and it died. Then the next day at school this little girl came up to me and was like, "You're dog committed suicide because it didn't love you."
This is the worst story I have ever heard.
Yeah, well you asked if I could think of an awkward story and I thought that the amount that story is sad covers it. Like, it's the wrong gear, it's not awkward, but it's pretty horrifying, so in that sense, it's fine. It was sixth grade, but it was pretty traumatic, so it works.
It does sound very traumatic. How long did it take you to get over that?
I don't know, I'm 38 and I'm in the back of a car telling it to you now, so I don't think I ever have. That was when I decided I should become a comedian and use that to work through these issues.
Do you do that with your comedy? Do you work through issues on stage?
No, not really. Not specifically. Meaning what I do on stage is not particularly personal. It's personal as to how I see the world, but it's not personal like, "It's so weird fucking people and it makes me feel weird." It's not that. That's a bad example of personal stand up comedy, but you get what I mean.
You came to the U.S. from Russian when you were a kid, right?
I did. I came here when I was four.
Where did you go to high school?
I went to high school in Lexington, Massachusetts, which in hindsight was very nice. It was a great school, but at that the time it was like, "School is a terrible experience."
Have they invited you back to speak?
I have spoken at both my high school and college. There were several people from my high school like Ethan Zahn who won the first "Survivor," Amanda Palmer, I think a lot of us have spoken at the high school. I mean there's only so many people who went to the school. They also have professors or radio personalities or whatever, but yes. That's a long roundabout way of saying that yes, I spoke at my high school. And at the college, which was nice too.
What was that experience like? My high school has definitely not invited me back to speak.
Yeah, but in like two years they will. Maybe four. It's really likely. How many people are voice actors from your high school? Once they are invited back, you're next. That's how it works. The experience well the class picks you. In both high school and college you are invited because the class wants you to come. What's funny is that when I was introduced for the high school one, you can find both speech on the internet, but for the high school one they just introduced me as "From the Class of 1992, Eugene Mirman" and most of the people in the hockey stadium where they did this graduation clearly had no idea who I was or what I did. They knew that I had gone to the school and that they had asked me to speak. It was a really funny experience where my friends who had come and were in the audience kept hearing the kids ask "Who is this? What does he do?" But it was a really great experience and it went really great.
Well, we reached your destination, so get out of the car.
Okay, I will.
Want the latest news from IFC? Like us on Facebook and follow us on Twitter@IFCtv