SXSW 2013: Eddie Pepitone on the art of stand up and being The Bitter Buddha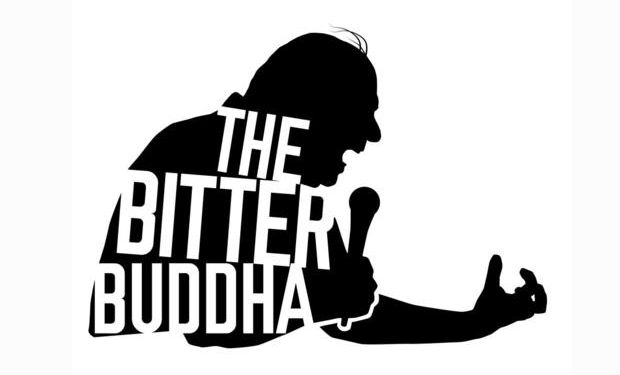 Posted by Melissa Locker on
Eddie Pepitone is a comedian and for those in the know, Eddie Pepitone is THE comedian. He is a true "comic's comic," who only recently started to see his comedy reach far outside of comedy circles. He has over a million views for his daily Youtube video series "Puddin'," hosts a popular podcast called The Long Shot, he's got a solid following on Twitter and frequently contributes to other comedy podcasts like WTF with Marc Maron. He recently released his first stand-up album, "A Great Stillness," and he's starting to tour nationally. If that wasn't enough, Pepitone is also the star of a documentary called "The Bitter Buddha," which is what brought him to SXSW. The film, directed by first-time filmmaker Steven Feinartz, is an in-depth portrait of the life of Pepitone and features some of our other favorite comedians including Maron and Comedy Bang! Bang!'s Scott Aukerman. The film is directed by Steven Feinartz, and stars Pepitone, Sarah Silverman, Zach Galifianakis and a cavalcade of comics including Patton Oswalt, Todd Barry, Dana Gould, and Paul F. Tompkins. We chatted to the comedy legend about the film, a life in comedy and whether he's using his powers for good or evil.
Have you ever been to SXSW before?
This is my first time. I just got off the plane and I think it's insane. We were at the convention center and the amount of people and it just has this energy. I'm feeling the energy. It's kind of early in the evening right now and I can feel the energy that it's going to build into an intense thing. It's exciting and scary at the same time.
What are you going to be doing at the festival?
We are screening the movie that's about me. And I'm doing a bunch of stand up shows. Two tonight and two tomorrow. I"m hosting a thing called "The Bitter Buddha Blues," which is me. I do a lot of song parodies …well, not parodies. I do a lot of characters, like lounge singers who have lost their minds. Like lounge singers who are having war flashbacks or lounge singers who are singing about crazy personal stuff instead of love songs. So I'm going to do that as kind of a musical comedy show tomorrow. And tonight I'm doing two stand up sets. So I'm busy. I've been traveling so much with the movie that I don't think I'm going to any parties, but you know this is the type of place where the energy just kind of sweeps you along. I'm 54 now, but if I was younger, forget it. I would wind up living here for years on an acid bender. It seems like the place where you could. It feels like a Hunter S Thompson novel, like you could come to Austin for SXSW and lose yourself for a lot of days.
Like a very long "lost weekend"
Totally.
You've been working in comedy for 30 or 35 years now.
Yeah, I always say I started when I was 20 and I'm 54 now. I've doing all kinds of comedy, not just stand up. I've done stand up a lot and pretty heartily the last 15 years, but I've done one man shows, I've done improv groups, I've done sketch groups, so I've done a lot of different forms of comedy, but always comedy. I did study acting and I loved doing real plays. I haven't done a real play in a long time.
After having been working for so long, now with the album and the movie, do you feel like it's paying off?
You know people have been asking me that a lot, but I've been earning my living doing this for a long time, but I am kind of reaching the peak of my powers in a way.
Are you using your powers for good or evil?
I think a little of both. No, I hope for good. But I think I have finally figured out stand up. Stand up is very difficult. There are just so many different things that you have to be good at. You have to be good at words. You have to be good at performing. Courage is the biggest thing, I think. What I mean by courage is the courage to say what your truth is – which sounds pretentious and some comedians would probably laugh at me – but for me, I've just become more fearless as a stand up and I can get up on stage and speak my truth. I think that's always the funniest thing with me anyway, because my truth is so twisted. Some comics do really abstract things, which is funny and clever, but you forget it two seconds later. You think, 'Oh that was a clever joke. Ho hum, I'm going on to the next show.' I think stand ups who have something to say are interesting. Like I'm into the whole genre of stand ups as social critics.
Who do you think of as stand outs in that genre?
The lineage of Lenny Bruce to George Carlin to Richard Pryor to Bill Hicks. Not Jerry Seinfeld, let me put it that way. He talks about why pizza is stuffed with cheese in the crust. I'm not saying that doesn't have its place, but with all due respect, it's quite superficial. But a lot of people like that milquetoast stuff.
When you talk about speaking your truth on stage, where does that truth come from?
For me it comes from trying to figure myself out. I had a tumultuous family growing up, just a dysfunctional family. My whole life I was an artist who has been figuring myself out, like, 'Who the hell am I? What the hell do I want?' I've been relating that and now, as I've matured, I also relate it to the world I live in. It's not just about me anymore, it's also about what's going on in the world. I'm pretty upset about the economic inequality in the United States. I was very into the Occupy movement that got crushed. I think dissent it is going to be a big part of our future. I get really political. But the job of a comic is to be funny first. To be funny and then be political or be political within being funny. And I've developed a few bits that work really well.
This is a question we are asking everyone: What's one high school experience that was really awkward?
Who doesn't? Isn't all of high school awkward? My awkwardness went way beyond high school. It's so funny, I'm trying to think of the ultimate awkward experience and I am sure it has something to do with trying to ask women out. I was just …well now I'm married, thank god. But back then I was so terrified of rejection and I remember a couple times just blurting out, 'will you go out with me?' Just horrible and awkward.
Tell me about "The Bitter Buddha," the documentary about you. I admit I haven't seen it yet, because it just came out yesterday.
It's been available on iTunes and video on demand since February, so you can order it now.
So you're saying I have no excuse.
No, you really don't.
I will go download it as soon as we're done here. Did you spearhead this documentary yourself or were you approached by someone?
They approached me.

What's it like when someone comes to you and says, "I want to make a documentary about your life?"
It's weird and flattering and I just had a good instinct about Steven Feinartz. When he approached me I was like, 'I kind of like this guy' and he pitched it to me. He said he loved my comedy. I really love the film. I had nothing to do with the film except perform and he followed me around. I think he really gets me as far as who I am and the way I perform.
Where did the title come from?
It came from the fact that I have tried to meditate and do a sort of Buddhist thing, but I'm still so kind of pissed off. My friend Sean Conroy, who I've been doing comedy with for a long time, dubbed me "The Bitter Buddha."
A movie that I am going to go download now.
Good!
Want the latest news from IFC? Like us on Facebook and follow us on Twitter@IFCtv