"Star Trek Into Darkness" to open early in the UK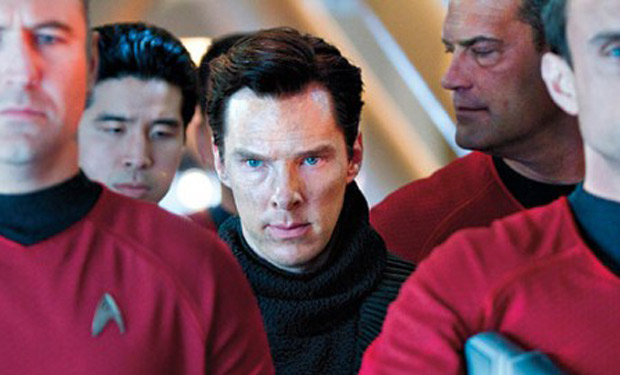 Posted by Terri Schwartz on
Those Brits are lucking out. It turns out that "Star Trek Into Darkness" is going to be coming out a week earlier than expected in the United Kingdom with a May 9 release date instead of May 17.
"Looks like Star Trek Into Darkness will land in the UK first. Release date May 9th. That's about 8 weeks away. Not long considering," Simon Pegg tweeted.
Meanwhile, J.J. Abrams and Benedict Cumberbatch opened up in the new issue of Total Film (via Collider) and teased John Harrison's storyline.
"[Nero] was just a raging, vengeful lunatic. All he wanted to do was destroy Vulcan, Earth and the Federation," Abrams said. "He had backstory but was kind of irrational. The beauty of Benedict's [John Harrison] is that he's completely rational. He's someone that you can have conversations with. You couldn't sit down and talk to Nero — he'd bite your head off!"
Cumberbatch added, "I did a lot of close combat training. He's a kick-ass warrior, as masterful with his hands and body as he is with weapons … You will have a great discovery during this film, which I think is great … [My costumes] look great. Some of them were (no pun intended) cumbersome and heavy, but some were very snug; you can almost see what religion I am."
"Star Trek Into Darkness" is directed by J.J. Abrams and stars Chris Pine, Zachary Quinto, Zoe Saldana, Simon Pegg, Anton Yelchin, Karl Urban, John Cho, Alice Eve, Cumberbatch and Bruce Greenwood. The film is slated to hit theaters in IMAX on May 15 and in regular cinemas on May 17. It's been revealed that over 40 minutes of "Star Trek Into Darkness" will be shown in IMAX.
What do you make of Cumberbatch's character? Tell us in the comments section below or on Facebook and Twitter.