Stanley Tucci and Elizabeth Banks "Catching Fire" Capitol Portraits arrive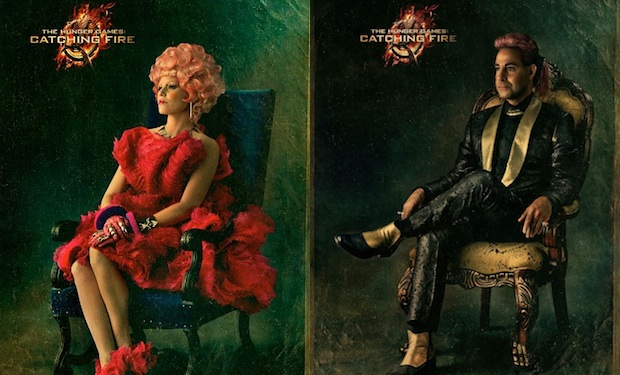 Posted by Terri Schwartz on
Two new images from "The Hunger Games: Catching Fire" have been released. They both come from the Capitol Couture Victory Portraits ad campaign that is running right now, and show Elizabeth Banks as Effie Trinket and Stanley Tucci as Caesar Flickerman.
"Once again, Capitol Couture pioneers fashion and culture with the first look at the Capitol Portraits," the Capitol Couture site reads. "Always the escort, fashion-forward Effie Trinket is resplendent in her year 74 victory, clad head‑to‑heel in couture. Effie enchants in an exploding silhouette of chiffon and organza blooms."
The Caesar Flickerman image comes courtesy of Fandango.
"Catching Fire" brings back stars Lawrence, Josh Hutcherson, Liam Hemsworth, Woody Harrelson, Elizabeth Banks, Donald Sutherland and Willow Shields. It also has a whole new set of actors coming on board as well. As a quick recap, here's everyone new who's been cast in "Catching Fire" so far: Philip Seymour Hoffman as Plutarch Heavensbee, Jena Malone as Johanna Mason, Amanda Plummer as Wiress, Lynn Cohen as Mags, Meta Golding as Enobaria, Bruno Gunn as Brutus, Alan Ritchson as Gloss, Jeffrey Wright as Beetee and Patrick St. Esprit as Romulus Thread. The movie comes out on November 21.
What do you think of the Capitol Portraits? Tell us in the comments section below or on Facebook and Twitter.