SNL Sketch Showdown: Wayne's World vs. The Festrunk Brothers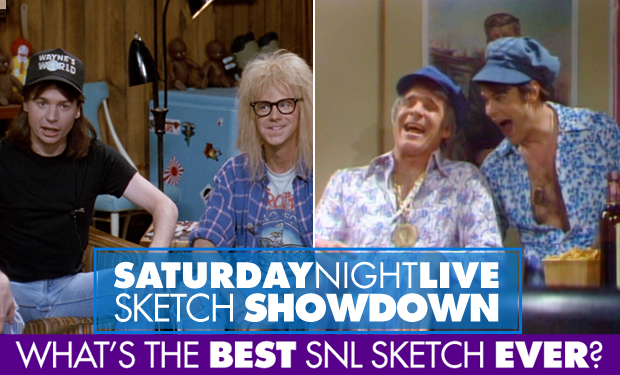 Posted by Rick Marshall on
Welcome to the "Saturday Night Live" Sketch Showdown. Every weekday, an IFC writer will determine the winner of a matchup between two classic "SNL" sketches. You can check out the full bracket here.
The Dynamic Duos
The latest round of our "SNL" Sketch Showdown features a pair of duo-driven, recurring skits that were a regular staple on the series across several seasons. Both sketches starred a pair of unconventional characters who lived in their own very unique – and very funny – worlds, one full of rock stars and gorgeous "babes," and the other full of disco and sexy "foxes."
Actually, now that we look at it that way, they might have more in common than than you expect…
Sketch 1: "Wayne's World"
Mike Myers and Dana Carvey made their "Saturday Night Live" debut as metalhead slackers Wayne Campbell and Garth Algar during the 1988 season, and the sketch went on to spawn not one but two live-action movies based on the characters' adventures. Not only did the pair's fictional public-access television series rock, it actually made DIY television seem cool – and if you've seen much public-access programming, you know how impressive of a feat that is. "Wayne's World" quickly became one of the most popular recurring sketches in the history of the series, with Wayne and Garth hosting everyone from Tom Hanks to Aerosmith in their basement "studio" and coining catchphrases like "Schwing!" "We're not worthy!" and "Party on!" And by imprinting with songs like Queen's "Bohemian Rhapsody" and Gary Wright's "Dream Weaver," this sketch managed to become just as significant of a pop-culture reference point as the subjects it riffed on.
Sketch 2: "The Festrunk Brothers"
Steve Martin and Dan Akroyd introduced the world to the Festrunk brothers in September 1977, strolling into the sketch with medallions swinging from their necks, chest hair protruding from their shirts, and bulges, well… bulging… from their too-tight pants. The combination of improperly used American slang, horrible accents, and a parade of guest stars playing it straight against these self-described "Wild and Crazy Guys" made this sketch not only a popular recurring element of the series, but a cultural touchstone. While Georg (Martin) and Yortuk (Aykroyd) Festrunk weren't the most famous roles either actor brought to the series, the "Wild and Crazy Guys" were such a memorable team-up that they were brought out of retirement this season for a special sketch pitting them against this generation's model: Andy Samberg and Justin Timberlake's "Dick in a Box" crooners.
The Matchup
Let's face it: Every "SNL" sketch to feature some variation of inept, party-hopping guys has simply been trying to recreate the success of Martin and Aykroyd's "Wild and Crazy Guys." Chris Kattan and Will Ferrell never quite captured that magic in their "Roxbury Guys" sketches despite spinning their rayon-clad, Haddaway-loving brothers into a live-action film. Andy Samberg and Justin Timberlake, however, may have usurped the throne with their slick, musical "Dick in a Box" duo. Still, it's hard to argue with the success of "Wayne's World" – the most successful franchise to spin out of "SNL." With two successful movies, a long list of bands and songs that found their way to the top of the charts thanks to a mention by Wayne or Garth, these friends from Aurora, Illinois, may actually be one of the only duos capable of tearing our attention away from the Festrunk brothers' antics.
And the Winner is…
"Wayne's World"
Like Martin and Aykroyd, Myers and Carvey were more than capable of giving us memorable individual characters – but when it comes to team-ups, no pair gelled better than Wayne Campbell and Garth Algar, who consistently made their characters seem so much larger than the series that hosted them.
Did the right sketch win? Tell us in the comments section below or on Facebook and Twitter.