SNL Sketch Showdown: Schweddy Balls vs. Nude Beach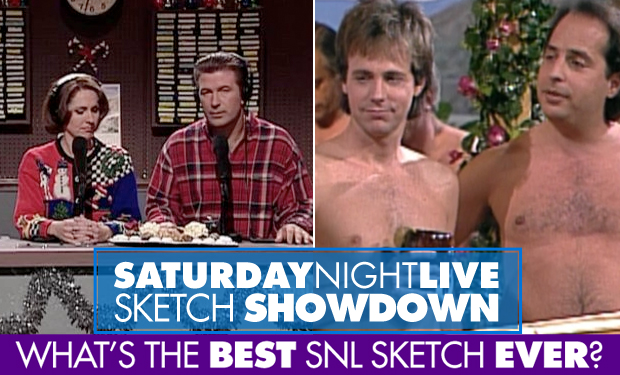 Posted by David Wolinsky on
Welcome to the "Saturday Night Live" Sketch Showdown. Every weekday, an IFC writer will determine the winner of a matchup between two classic "SNL" sketches. You can check out the full bracket here.
Risqué Business
By definition, over the years "Saturday Night Live" has become known for a wide variety of things. Any show that's been on the air for 38 seasons can't afford to sit still and be predictable. That's how you lose ratings and audience members — the moment you start to become dependable. "SNL," then, has the unenviable task of trying to be controversial (when it's called for) but also observing the standards and practices' rules and regulations (always). So, how does a late-night comedy show intended for adults (and comedy-enamored teens) stay relevant and surprising while also able to be safely discussed around the proverbial water cooler or playground without incurring the wrath of HR reps or eavesdropping adults? These two sketches, airing a decade apart, explore two very different ways of honoring a time-tested comedy favorite: dick jokes.
The Matchup
"Nude Beach," a 1988 Conan O'Brien-penned sketch was a scene that couldn't be held back. It has a fairly interesting history (it was originally written for a Carl Weathers-hosted episode but then later quashed), and has a lot of significance for the show — fan favorites like "Schweddy Balls" (which this is up against) and "Dick in a Box" couldn't have existed without this: The show's first sketch where the word penis is said on air. It's spoken a total of 48 times, and in a lesser troupe's hands, the humor could have been lost. In the sketch, Matthew Broderick is unwinding at a nude beach with some friends of his. There's a fence obscuring their phalluses, but that doesn't matter: They are talking about each other's penises. For the whole scene. Nobody is making fun of anyone's penises. It's just a couple of guys talking guy-talk: "Jack, what have you done with your penis? It looks super!" "Oh, I go to this place on Long Island. They do great work." "Wow. You got the address?" Sure." "Great. I'll write it on my penis so I won't forget." It's all done completely straight-faced, which amplifies the joke exponentially. There's probably a joke in here to make about how long Jimmy Fallon would have lasted in a sketch about penises, but now I just have penises on the brain so I'll figure that out later after I penis.
1998's "Schweddy Balls," on the other hand, is no slouch. It featured Ana Gasteyer and Molly Shannon reprising their popular "Delicious Dish" NPR hosts for another sketch mocking the stuffiness that station often ladles out ample portions of. Alec Baldwin plays Pete Schweddy, who is guesting on their show to explain how his holiday-treat balls are made — and boy oh boy do those ladies love those Schweddy balls. This scene trades more heavily in double entendres and is extremely silly, and somehow never lapses into just being juvenile — even though there's no mistaking this scene for high satire.
And The Winner Is…
"Nude Beach." In some respects, it might seem like this comes down to dick jokes against balls jokes, but I disagree. Both sketches are funny, no doubt about it, but "Schweddy Balls" is more of a joke ("So, there's this NPR guy whose last name is Schweddy. He's a cook who makes delicious balls…"), whereas "Nude Beach" is a stronger scene, structurally. There is a problem that's dealt with (Kevin Nealon is worried his penis is too small, a woman tells him it doesn't really matter), the stakes are raised, and all that good stuff sketches should have. But, as mentioned above, it's also historically more significant for the show's history. "Penis" was said 43 times and the sketch provoked 46,000 letters. You can't argue with those numbers — it got a big reaction. Contrast this with Baldwin later reprising his role again, this time unleashing his Schweddy wieners onto the world. But by then, the whole gag was getting a little sweaty.
Did the right sketch win? Tell us in the comments section below or on Facebook and Twitter.