SNL Sketch Showdown: Motivational Speaker vs The Chris Farley Show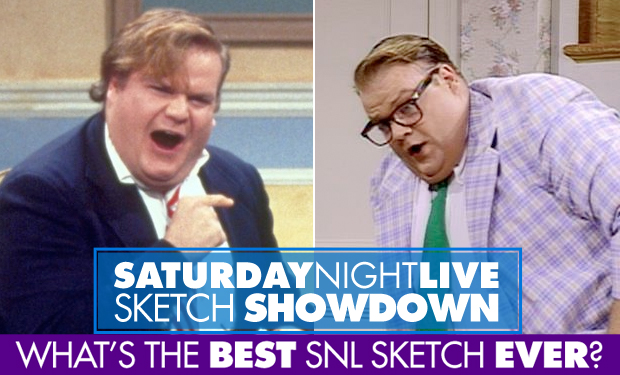 Posted by David Wolinsky on
Welcome to the "Saturday Night Live" Sketch Showdown. Every weekday, an IFC writer will determine the winner of a matchup between two classic "SNL" sketches. You can check out the full bracket here.
Farley Fest
Chris Farley. Love him or hate him, miss him or not, Chris Farley was a large man with an even larger talent for making people laugh. The Wisconsin-born performer was part of the early '90s exodus of folks from Chicago's Second City to New York's "Saturday Night Live," coming aboard in an era that gave us Adam Sandler, Dana Carvey, Mike Myers, and the exit of Nora Dunn. Farley may have seemed like the prototypical "big fat funny guy," but the longer he was on the show, and the more tell-all books about his tenure on the show that are written show, he was a complex human being who never let the pressure of live television get to him: He was performing for the audience and also for his fellow cast mates. That kind of passion is incredibly rare.
The Matchup
Everyone remembers Matt Foley, the motivational speaker who lives down in a van by the river. He was an incredibly flawed character who was a motivational speaker in title only: He was depressing and seemingly hired by suburban families to crush their children's' dreams and also demonstrate what happens to people who don't clean up their act — they become motivational speakers. He was a loud, brash character who would be perpetually hiking his khakis higher and higher before wiping out spectacularly (another Farley trademark — his physicality) and crushing a table or crashing through a window. It's funny as it happens, but when you sit and think about it, there's a large deal of intense sadness in these scenes just under the surface.
And then there's "The Chris Farley Show," where all those bathos come bubbling up to the surface. Chris parodies himself in these sketches, where he has that week's host as a guest on his personal talk show. On Farley's show, Chris is a nervous host-interviewer who fumbles his way through talk show standards like the monologue and introducing his guest, and then proceeds to reminisce with his guests about their projects without shedding any additional insight. Sometimes, the projects Chris remembers has nothing to do with his guests, like when he asked Jeff Daniels about "Die Hard" and Paul McCartney about "Terminator." Regardless, when Chris beats himself up for how horrible he's doing, his guests always perk him back up and assure him he's really quite good at this.
And The Winner Is…
"The Chris Farley Show." Chris Farley had that rare ability to create a long string of characters "SNL" audiences couldn't get enough of, but these were a cut above the rest for so many reasons. They were light satires of entertainment journalism (and what it would become) and our culture's obsession with celebrity, while also just being flat-out goofy and lovable. It also showcased Farley on a completely different wavelength — there's no screaming or table-smashing here.
Did the right sketch win? Tell us in the comments section below or on Facebook and Twitter.