SNL Sketch Showdown: More Cowbell vs. Celebrity Jeopardy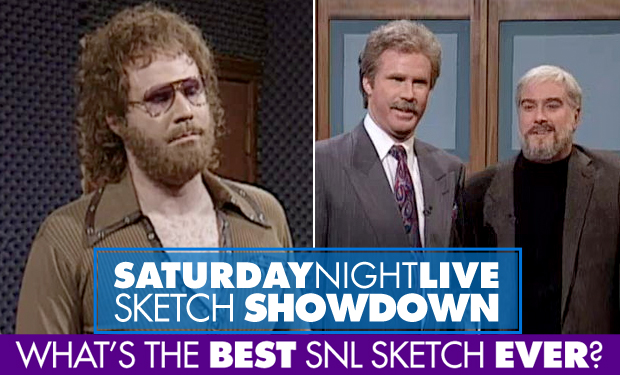 Posted by Terri Schwartz on
Welcome to the "Saturday Night Live" Sketch Showdown. Every weekday, an IFC writer will determine the winner of a matchup between two classic "SNL" sketches. You can check out the full bracket here.
Ferrell's Finest
Before Will Ferrell was one of the biggest comedic movie stars in Hollywood, the "Anchorman" actor earned his name on "Saturday Night Live." A producer scouted him when he was a troupe member at Groundlings in Los Angeles, and Ferrell ended up being brought on board "SNL" in 1995. For the next seven years, Ferrell became known for his impersonations of people like President George W. Bush and Robert Goulet, and the hilarious characters he created like nightclub aficionado Steve Butabi. But of all his contributions to "Saturday Night Live," the two sketches that remain his most recognized are "Celebrity Jeopardy" and "More Cowbell."
The Matchup
There have been a total of 14 "Celebrity Jeopardy" skits during "Saturday Night Live's" run, the first being introduced on December 7, 1996. But it's the sketch's seventh appearance on October 23, 1999 that is its most famous. Featuring Ferrell as host Alex Trebek, Darrell Hammond as Sean Connery, Jimmy Fallon as French Stewart and host — and returning "SNL" player — Norm MacDonald as Burt Reynolds, the sketch brings together "Celebrity Jeopardy's" three best guests from its short run. It's Connery's response to the Final Jeopardy! question, "SucK it, Trebek," that is likely what makes the skit so beloved, but everything from Stewart's certainty that onions are condiments made out of mustard seeds to Reynolds' distraction when he finds a massive sombrero backstage make this a standout sketch.
The "More Cowbell" sketch is the most recognized one from Christopher Walken's fourth time hosting "Saturday Night Live" on April 8, 2000. The skit features him as famed producer Bruce Dickinson as he helps Blue Oyster Cult create "(Don't Fear) The Reaper." Interestingly, Dickinson is not the producer of the song in real life, nor was Ferrell's cowbell-playing character Gene Frenkle an actual member of the band. The sketch turned "more cowbell" into a pop culture catchphrase and even spawned an aqua-colored Hot Topic t-shirt with the words, "I've got a fever, and the only prescription is more cowbell" featured prominently on it. If that's not a sign of success, we don't know what is.
And The Winner Is…
This is a tough one. Both "More Cowbell" and "Celebrity Jeopardy" are classic Ferrell skits in their own right, but when it comes down to it, it's "More Cowbell" that is best known specifically for Ferrell's involvement. Ferrell is funny in "Celebrity Jeopardy" as Alex Trebek, but it's Hammond who steals the show as Sean Connery. Likewise, it's host Christopher Walken as Bruce Dickinson who utters the famous words, "I've got a fever, and the only prescription is more cowbell" in "More Cowbell," but the overall skit is Ferrell's through and through. After seeing that sketch for the first time, we never looked at a cowbell the same way again.
Did the right sketch win? Tell us in the comments section below or on Facebook and Twitter.