Seth Herzog on Wonder Woman, bombing big and why he should be IFC's next adopted comic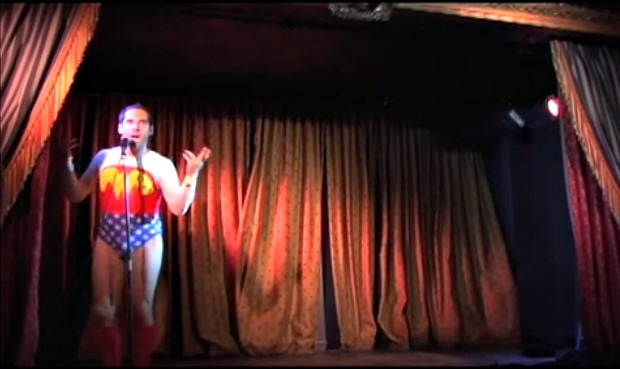 Posted by Melissa Locker on
As Jimmy Fallon's warm-up comic, Seth Herzog has to be good at working – and being funny – under pressure. Luckily Seth has proven himself fearless when it comes to making people laugh to the extent that he willingly dons a Wonder Woman costume on stage, even if he's performing in front of the U.S. military. Seth has a lot of practice getting people to chuckle. In addition to being a warm-up comic on "Late Night with Jimmy Fallon," he has a stellar stand up career and has hosted a stand-up show Sweet for years. In fact, Sweet, the NYC stand-up staple, is the longest running show of its kind, where comics come to test new material. Alumnis and contributors to Sweet read like a who's who of comedy: Zach Galifianakis, Tim Heidecker, Jim Gaffigan, Donald Glover, Kristen Schaal, the list goes on and on of comics who want to test their material on Seth's stage, which is why the New York Times called him the "comedy world connector extraordinaire." After watching him perform in the aforementioned Wonder Woman costume at IFC's Crossroads House at SXSW 2013, caught up with Seth, who was fresh off the stage from dancing with The Roots, to talk about the art of stand up, bombing big and then he made a pitch why he and his mom should be IFC's next adopted comic.
Hi Seth, you barely look tired at all from your dancing.
I am tired and out of shape, but the trick is that you don't let the audience see that you're exhausted.
You claim you are out of shape, but you wear a Wonder Woman costume on stage.
Lately I've decided that the unitard doesn't fit in the same way. It's getting ripped in a weird way and it fits in a weird way. I've joined a gym, if that's what you're asking.
You look fine!
I could lose a good 20 pounds.
No!
30 pounds.
Maybe. When did you first don a unitard?
Years ago, as the story goes – it's folklore, so who knows if it's real – I started dancing on stage as part of a comedy set when I was at a friend's house and he had a disc of TV theme songs. "Josie and the Pussycats" is a great song and we just started rocking out to it and he said, 'You have to do this on stage.' I was like, 'Eh, no one is going to think that's funny,' but he said, 'Trust me, they are.' So I started dancing on stage to it, but I didn't have a costume for it, I would just do it and people liked it, but I thought there was a better way to do it. So I started thinking about it and I got that disc and the "Wonder Woman" theme song was on there and I thought, 'This is a great song." It's really fun and upbeat and you can wear funny costume with it. So that's how it started once I got the funny outfit to go with it. I originally had a Wonder Woman costume that I built and it was so so ghetto. It was this weird red stretchy halter and I sewed in the yellow bird and it was so ghetto. This new one is, like, $40. It does the job. It's a small, which I bought on purpose, because the weirder the fit the better, the funnier it is. I used to fit the small. Not that I'm that fat, people reading this.
You wore that small Wonder Woman unitard in front of US Troops?
Yes, lots of them. Three different USO shows.
When you were packing for Iraq, you were, like, I'm bring the Wonder Woman unitard?
Originally we were supposed to go to Iraq, but there was something going on there, I don't know what, a festival maybe. They wouldn't let us in the week we were supposed to go, the planes were backed up and comics were the last thing on the agenda so we just stayed in Kuwait and did shows there, which was fine with me. I would have liked to go to Iraq, but I'm fine. But with the unitard, I agonized over it, for two weeks. I asked all my friends, 'Should I do this? Are they going to kill me? Are they going to get it?' I agonized over it and finally my friends said, 'Just do it. It's very patriotic. Go with that angle. It's silly. Just do it.' We did one Navy show, one Air Force show and one Army show and they all reacted differently, which is really interesting.
Who was the most pro-Wonder Woman?
The Army. The Army laughed the hardest and thought it was the funniest. The Air Force thought it was kind of cute. The Navy were weirded out and insulted. There were guys standing in the back of the Navy show with their arms crossed just staring at me like, 'We don't do that here.' Like they were mad.
As a performer what is it like having your audience mad at you?
It's not the first time. One of the funniest bombings I ever had was when I had to do a benefit at a hunting lodge in Syracuse. It was all these NFL players and people who had paid to have dinner with them. Enough said, right? I was supposed to do an hour and that's a long set. I wasn't going to do Wonder Woman, but I thought it was funny because, you guys are used to men in Spandex, because you all wear Spandex. They were okay with when I was making fun of them, they were okay with it, but they stopped listening after I stopped talking about them. At the time I was doing a joke about "The Passion of the Christ" the film, which goes, 'Have you seen it? If you have seen it, a lot of people ask me whether, as a Jew, I think it's anti-Semitic and I say, not if you think Jesus finally got what was coming to him, it's not anti-Semitic at all. The Jews were right. They did the right thing.' They didn't get the joke. All they heard was some Jew from New York telling them that Jesus finally got what was coming to him. They turned on me. It was five, maybe ten minutes into the set. They turned on me. There were boos, they were angry with me, it was so ugly. There were a bunch of football players sitting right by the stage and I said, 'I don't know if you guys have actually seen the movie, but it's about a Jewish who gets his ass kicked for an hour and a half in real time and judging by the looks I'm getting from this table we're doing a remake of the movie out back right after the show's over.' That was the only laugh I got. Then there was a hot mic at the other end of the room and some drunk idiot from the Jaguars gets on the mic and I have a mic and he has a mic and they think it's part of the show, but it's not part of the show. I'm making fun of him and he's making fun of me. The organizers started rushing the stage saying, 'This is over, this is over.' This is maybe 15 minutes in. Then I had to sit in the room with them and wait for my ride to show up.
That sounds awful. Now you work as a warm-up comic.
Yes, I'm the warm-up comic at the Jimmy Fallon show, which is not a job I ever thought I would have. I never thought it is something I would want to do and never thought I'd get into it, but it was a really great opportunity when Jimmy asked me to do it and it was a new show and it was really exciting to work on a new show. I'm so glad I did. It's been such a boon. I'm on the show a lot, too. I do a lot of characters and sketches on the show. It's so much fun. it's the greatest job I've had.
As a warm-up comic, do you ever feel pressure, like if you don't succeed the audience is just going to sit there and stare at Jimmy?
That's always a fear, but it's happened very rarely where we've had bad audiences. We've definitely had the occasional bad audience, but it's rare that they are really bad. There's a little bit of pressure. I'm lucky because most audiences that come to our show are psyched to be there. 10-20% of the time they are really psyched and I don't have to do much to get to them in the mind-set of thinking like a group. Really the job of a warm-up comic is to get 200 strangers to start laughing together and thinking together – a subconscious mob mentality.
Like a cult?
Like an hour-long cult. But the audiences have to be brought to a frothy frenzy, which is hard because I only have them for ten minutes. Sometimes they are really quiet when they sit down and you have to bring them into a frenzy and those are the days I work it and work it hard.
Do you have a go-to joke that always works? More "Passion of the Christ" material maybe?
Yes, "Passion of the Christ" gets everyone on board. What I do to get the audience involved, which is simple, but it's birthdays. Every day there are at least two or three or seven birthdays. I have the birthday people compete and I have them do a dance off and it gets everyone cheering and clapping. I make fun of their dancing and I make fun of them.
I hear you are also interested in becoming IFC's adopted comic.
Chris [Gethard], I hope you are enjoying SXSW, because it is the last time you are going to be involved with IFC. I would love to be IFC's adopted comic. A. I don't like my parents. I need new parents. B. I love IFC, even before they started being a comedy channel. I love their vibe, I love their take, I love their choices. I don't know if you know, but I do a bit with my mom every week at my show Sweet, my weekly show that I've been doing for eight years at the Slipper Room. I do a bit called "What's On My Mom's Mind," and it's often the highlight of the show and she's amazing. She sings, she talks to the audience, she tells stories from her life. I never know what she's going to do. She's very ripe for comedy. I might bring my mom with me to be adopted by IFC as a package deal. I know that sounds weird, but I think it's perfect for IFC.
Want the latest news from IFC? Like us on Facebook and follow us on Twitter@IFC