Ryan Reynolds wants "Deadpool," not "Justice League"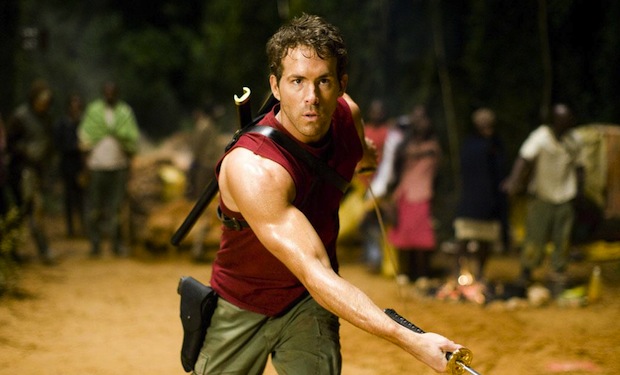 Posted by Terri Schwartz on
Ryan Reynolds has not given up hope for a "Deadpool" movie being made. In fact, he revealed in a recent interview with Empire that the script for the film is still being developed, though they're struggling to get it an R-rating.
"[The 'Deadpool' script has] got a similar tone [to 'Zombieland'], almost," Reynolds said, adding that the script is "nearly NC-17" right now. "['Zombieland' writers Rhett Rheese and Paul Wernick] wrote it and they developed it as well and, you know, it's sitting there. You could do it for a pittance compared to the modern sort of epic scale superhero movies, but it's about a guy who knows he's in a movie and knows he's in a comic book who is deeply mentally disturbed and hyper violent. And that's tough to get by a studio."
He added of the movie's planned connection to "X-Men Origins: Wolverine," "I've always wanted to do the movie just if only because Deadpool would get to do his own movie trailer. So that's a thing that we were dying to do and we would love to be a part of that," he said. "I don't know how it would fit though, no. In the current iteration of the script, it doesn't address 'Wolverine' — though it does address Deadpool's appearance in 'Wolverine.' Deadpool was not happy with Deadpool in 'Wolverine.' He has a sort of a WTF!? moment with that."
As for "Justice League," Reynolds wasn't as enthused.
"I don't know, if you're going to do a comic book movies in that vein you really have to get them right," Reynolds said. "Joss Whedon is a guy that just nails it, Christopher Nolan as well. If they were going to do it like that, yeah it would be interesting to do. Working on 'Green Lantern' I saw how difficult it is to make that concept palatable, and how sort of confused it can all be when you don't really know where you're going with it or you don't really know how to access that world that comic book fans have been accessing for decades and falling in love with. So at this point I have very little interest in joining that, as always a very good script and great director could turn that around."
Would you rather have a "Deadpool" movie or a "Justice League" movie? Tell us in the comments section below or on Facebook and Twitter.