Ryan Quincy from Out There will be on NPR's The Dinner Party this weekend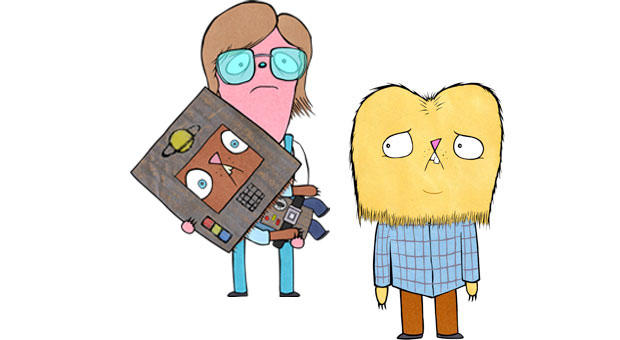 Posted by Melissa Locker on
We know your Friday night is set: You're watching IFC's new original animated series "Out There" airs at 10:30pm ET/PT following the season finale of Portlandia. So how will you spend the rest of your weekend? Listening to "Out There" creator Ryan Quincy (and voice of Chad) during his guest appearance on NPR's The Dinner Party this weekend. Ryan's interview is airing in 75 syndicated markets at various times throughout the weekend but the easiest way to listen to Ryan's interview is via iTunes or on The Dinner Party's site , where you can download the podcast version of the interview beginning this afternoon.
You can also spend time this weekend watching "Out There" creator Ryan Quincy's episode commentary or watching a whole episode of "Out There" in our Stream Room.
"Out There" is created, written by and executive produced by Ryan Quincy, the two-time Emmy-winning animation director and producer of a little show called "South Park." The ten episode series chronicles the socially awkward Chad (Quincy), his little brother Jay (Kate Micucci) and his best friend, Chris (Justin Roiland) with cast members including Pamela Adlon (Louie, King of the Hill), Fred Armisen (Portlandia, SNL), Linda Cardellini (ER, Freaks and Geeks), John DiMaggio (Futurama, Adventure Time), Kate Micucci (Raising Hope, Bored to Death), Megan Mullally (Children's Hospital, Party Down) and Justin Roiland (Fish Hooks, Adventure Time).
Don't miss guest stars Ellen Page (Juno, Inception), Jason Schwartzman (Moonrise Kingdom, The Darjeerling Express), Sarah Silverman (Wreck It Ralph, The Sarah Silverman Program), Selma Blair (Anger Management, Hellboy) & many more on this season of Out There!
Want to know what's going on "Out There"? Like us on Facebook and follow us on Twitter @IFCoutthere
"Out There" airs on IFC on Fridays at 10:30/9:30c