Watch: Portlandia's Fred Armisen versus Nardwuar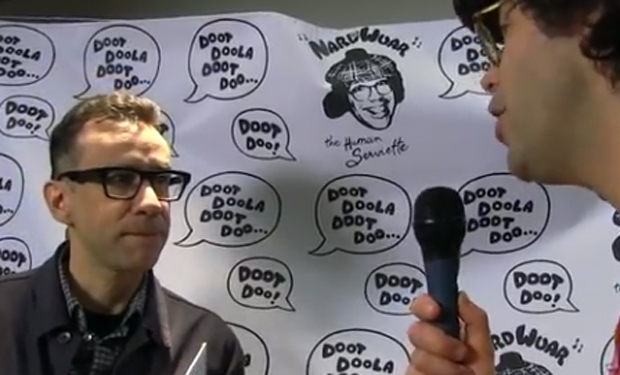 Posted by Melissa Locker on
There are a lot of real characters at SXSW and the biggest character of them all may be Nardwuar the Human Serviette.
Part hard-hitting reporter, part Andy Kauffman-esque comedian, Nardwuar has interviewed some of the biggest names in music, from Kurt Cobain to Lil Wayne, since getting his start as a musician and college radio station personality back in 1987. His style is disarmingly weird and occasionally can be off-putting to the interview subjects, which is part of the reason he titles his interviews like they are boxing matches e.g. "Fred Armisen vs. Nardwuar." That said, Nardwuar is an excellent journalist who has the amazing ability to dig out incredibly obscure events in his subject's lives and then grills his subjects about them. Over the years since he's been at it, the strangely-named Canadian has developed a huge cult following, had a lot of celebrities walk out during interviews and more than a few enemies (See "Kid Cudi vs. Nardwuar) too. So when he spoke to Portlandia's Fred Armisen at SXSW you knew something magical would happen.
Watch Fred Armisen vs. Nardwuar:
Facebook and follow them on Twitter@IFCportlandia and use the hashtag #portlandia.
Portlandia airs on IFC on Fridays at 10/9c