Go behind-the-scenes with Portlandia's rats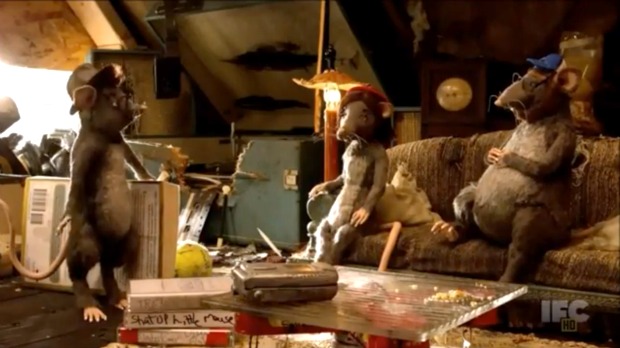 Posted by Melissa Locker on
There were a lot of great moments throughout the third season of Portlandia, but the characters that may have managed to upstage Fred Armisen and Carrie Brownstein were the rats, their anthropomorphic rat personas.
When we first met the rodents during Portlandia's season two, the mischievous threesome of animated rat versions of Carrie, Fred and their friend, John, tried to break into a zero packaging grocery store. The rat caricatures were developed by Bent Image Lab's lead animator Jen Prokopowicz who worked closely with Portlandia's director of photography Bryce Fortner combining live action footage with stop-motion animation. People loved the little rats so much that during season three, Portlandia's creative team dreamed up an expanded storyline that includes multiple rat segments, including a skit where the rats become revenge-seeking DIY publishers and another where Carrie and Fred Rat want to move into less gentrified digs leaving John to look for new roommates, including a few characters' rodent doppelgangers like "Spyke Rat," a nod to Fred's bike messenger character and "Lance Rat," Nina's boyfriend.
In this video, we get to go behind-the-scenes of making the rats with Bent Image Lab to meet the team and see the reverse Pied Piper process behind bringing the rats to Portlandia:
video player loading
.
.
.
Want the latest news from Portlandia? Like them on Facebook and follow them on Twitter@IFCportlandia and use the hashtag #portlandia.
Check the schedule for Portlandia on IFC