Peter Jackson reveals first scene from "The Hobbit: The Desolation of Smaug"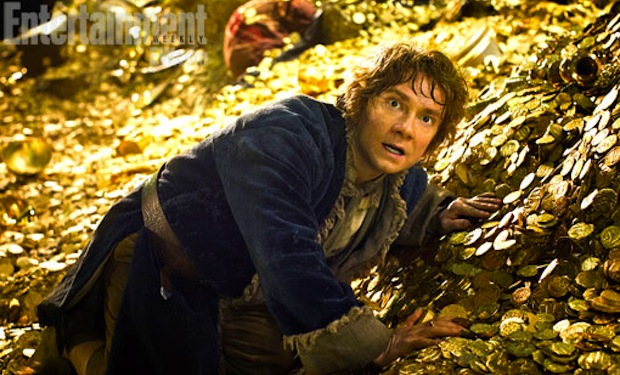 Posted by Terri Schwartz on
Finally we have some more to go on from "The Hobbit: The Desolation of Smaug" to obsess over in addition to this image. Director Peter Jackson and actor Jed Brophy held an hour-long "Desolation of Smaug" behind-the-scenes event for fans who had purchased "The Hobbit: An Unexpected Journey." They revealed a new scene from the upcoming movie that MTV Movies Blog explains in detail.
"In the clip, we follow Gandalf as a he walks through a dark cavern, along a ledge," the site writes. "Eventually, he comes to what looks like a cage that has been broken from the inside. Radagast the Brown appears and asks why he's there. Gandalf explains that something broke out of this cell and the others like it, hinting as the Nazgul."
In addition, the presentation included stars Luke Evans, Stephen Fry, and Lee Pace, "Lord of the Rings" actors Orlando Bloom (who will appear in the new movie), Billy Boyd and Dominic Monaghan and even Stephen Colbert. Of the many things discussed, Jackson revealed set footage showing Bloom's Legolas with Evangeline Lilly's character Tauriel.
"We're quite excited about the storyline we have created for Tauriel. As you can see, she's not an Elf Guard to be messed with," Jackson said, via JoBlo.
Jackson also revealed that the first trailer for "The Desolation of Smaug" will be released over the summer, leading some to speculate that it could debut at San Diego Comic-Con in July.
"The Hobbit: The Desolation of Smaug" hits theaters on December 13, 2013, while "There and Back Again" comes out on December 17, 2014.
What do you think of these new details released? Tell us in the comments section below or on Facebook and Twitter.