"Oz The Great And Powerful" review: The yellow-brick road revisited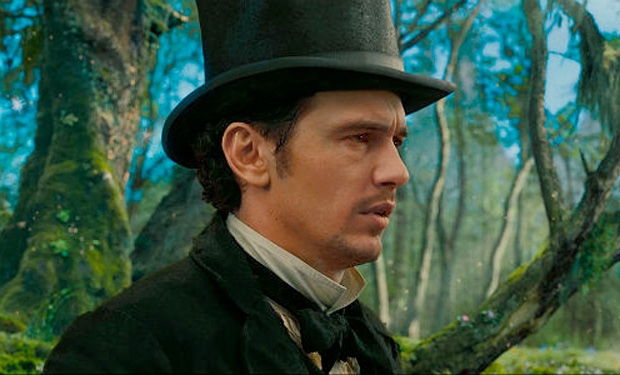 Posted by Rick Marshall on
About halfway through "Oz the Great and Powerful," there's a scene in which James Franco, playing the smooth-talking circus magician Oz, grins at the good witch Glinda (Michelle Williams) for an uncomfortably long amount of time. He squints as his smile slowly widens, and the camera stays locked on his face well past the moment when you expect it to cut away. As Franco continues to grin, the tone of the scene shifts from a sweet, funny moment to the awkwardness of a joke that's overstayed its welcome.
The scene is a nice metaphor for "Oz the Great and Powerful," which manages to be a fun and entertaining adventure despite a habit of going one step too far on too many occasions and over-reaching a bit.
Directed by Sam Raimi ("Spider-Man"), "Oz the Great and Powerful" casts Franco as the titular title character of "The Wizard of Oz" in a prequel that explores how the former sideshow huckster found himself in the magical world of flying monkeys, dancing munchkins, and powerful witches of good and wicked varieties. After a tornado deposits him and his hot-air balloon in a stream filled with nasty faeries and oversized, brightly colored flowers, the "great and powerful" Oz (whose full name is revealed to be Oscar Zoroaster Phadrig Isaac Norman Henkel Emmannuel Ambroise Diggs) finds himself caught up in a feud between three witches angling for control of the Emerald City: Theodora (Mila Kunis), Evanora (Rachel Weisz), and Glinda (Michelle Williams). Saddled with a case of mistaken identity that pegs him as the wizard whose arrival was foretold in prophecy, Oz must use all of the illusions and trickery at his disposal to defeat the wicked witches, save the land, and earn the throne of Emerald City.
From the very beginning, Raimi reels his audience in with a beautifully, digitally rendered opening that takes full advantage of the 3D format and the presence of yet another great Danny Elfman score. And though Disney was somewhat limited in how much it could tie the new film to the 1939 classic produced by Warner Bros., "Oz the Great and Powerful" manages to feel like the spiritual prequel it was intended to be thanks to little elements like the decision to present the opening in black-and-white and a 4:3 aspect ratio and switch to bright, vivid color and a 16:9 ratio when Oz lands in, well… Oz.
In most cases, Raimi makes good use of the 3D environment, allowing it add another level of detail to falling snow or wisps of smoke instead of the usual excuses to have a character reach out of the screen or "it's coming right at us" gimmicks. However, in his efforts to make the land of Oz as bright and detailed as possible, scenes with a lot of motion tend to create that headache-inducing blur that quickly turns 3D from a positive to a negative. The end result is something akin to Tim Burton's "Alice in Wonderland," which had a similar problem with hyper-detailed, brightly colored backgrounds becoming a messy smudge whenever there's any 3D action.
Blurring problems aside, much of the set design in "Oz" – and Raimi's integration of live actors with some of the weird, wonderful environments they fly, run, or ride through – takes full advantage of modern-day technology's ability to bring L. Frank Baum's world to life on the screen. While older audiences will likely be turned off by the crisp, polished presentation of everything from the munchkins' outfits to the crayon spectrum of flowers and leaves that make every background pop, younger audiences have come to expect a ridiculously high level of detail and bold, bright color in what they see on the big screen, and in that "Oz" delivers.
Much of the cast also delivers in their roles, but it's worth keeping in mind that "Oz the Great and Powerful" is a Disney project aimed at young audiences, and the cast's performance falls right in line with what one expects from the studio and its target demographic for the movie. Over-acting is the norm, but everyone seems to be enjoying their roles – especially Kunis and Franco, who chew up every scene they're in and do an admirable job of yanking your attention away from the extravagant sets.
Unfortunately, the living, breathing actors' interaction with their computer-generated counterparts are less impressive. When Franco and Williams are called upon to pick up, carry, or otherwise physically act with one of the digitally created characters – such as a miniature girl made of porcelain voiced by Joey King – their movements and the position of their hands often appear ever-so-slightly off, and make it a little too obvious that the characters were added in post-production. It's a minor issue, but it stands out due to the level of precision and attention to detail seen throughout the rest of the film.
Visual and technical issues aside, "Oz" delivers on much of what Raimi and Disney clearly set out to do with the film. While it's impossible to capture that nostalgic appeal of the beloved 1939 movie for older audiences in this modern era, Raimi does a nice job of positioning "Oz the Great and Powerful" as a bridge to Baum's world for younger audiences, hinting at what came before and teasing future adventures lying just ahead on the yellow-brick road.
"Oz the Great and Powerful" hits theaters Friday, March 8. The film is directed by Sam Raimi and stars James Franco, Mila Kunis, Michelle Williams, and Rachel Weisz.