Coming Soon: "Maron" with guest stars Judd Hirsch, Dave Foley, Adam Scott, Bobcat Goldthwait, Ileana Douglas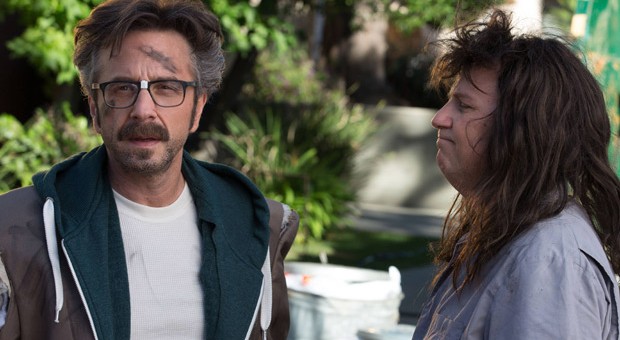 Posted by Melissa Locker on
As you may have heard, we are bringing comedian and podcaster Marc Maron to the small screen and we couldn't be more excited. The show, "Maron," debuts this spring with ten episode all based on Marc's life and, of course, his successful WTF podcast (which you should just subscribe to already.) Each half hour episode chronicles Marc's day-to-day struggle to maintain relationships other than the ones with his podcast audience and his beloved trio of cats. "Maron" premieres Friday, May 3 at 10:00pm ET/PT on IFC.
In the show, Marc stars as himself, and joining him is Judd Hirsch (Ordinary People, Damages, This Must Be the Place) as his father, Nora Zehetner (Mad Men, Grey's Anatomy) as his girlfriend, Andy Kindler (Bob's Burgers, Everybody Loves Raymond) plays his loyal friend and Josh Brener (The Internship, Silicon Valley) is Marc's assistant.
Notable guest stars who will be appearing throughout the season include Mark Duplass (Your Sister's Sister, Safety Not Guaranteed), Illeana Douglas (Entourage, Ghost World), Dave Foley (Kids in the Hall, NewsRadio), Jeff Garlin (Curb Your Enthusiasm, Arrested Development), Gina Gershon (Killer Joe, How to Make It in America, Rescue Me), Bobcat Goldthwait (Jimmy Kimmel, Chappelle's Show, Esquire Magazine's Director Of the Year), Ken Jeong (Community, The Hangover), Denis Leary (Rescue Me, The Job), Aubrey Plaza (Parks and Recreation, Safety Not Guaranteed), Adam Scott (Parks and Recreation, Party Down), Eric Stoltz (Pulp Fiction, Mask) and Danny Trejo (Sons of Anarchy, Machete).
Watch the teaser trailer now:
video player loading
.
.
.
Want the latest news from IFC? Like us on Facebook and follow us on Twitter@IFCtv
"Maron" premieres Friday, May 3 at 10:00pm ET/PT on IFC.