John Romita Jr. thinks "World War Hulk" would make a great "Hulk" movie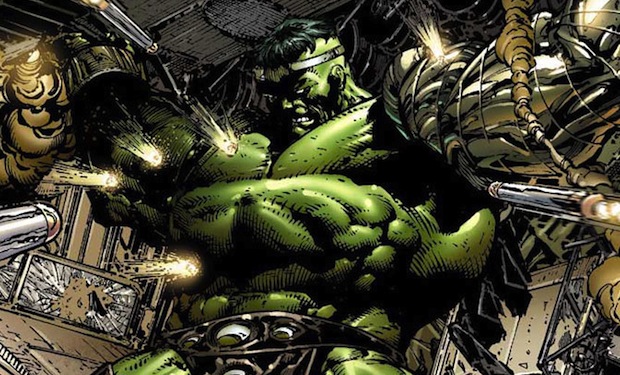 Posted by Terri Schwartz on
Ever since "The Avengers" came out, fans have been clamoring for a standalone Hulk movie. Mark Ruffalo made the character his own in the ensemble Marvel superhero flick, and there's been much discussion of how the Hulk would work in his own film. If it were to happen, Marvel Studios president Kevin Feige said it won't come until after 2015's "The Avengers 2," which means we have plenty of time to guess how it could be made in the meantime.
Two of the most popular possibilities are to have a Hulk movies based on either "Planet Hulk" or "World War Hulk." "The Avengers 2" director Joss Whedon called the "Planet Hulk" rumors "nonsense," but what about "World War Hulk"? IFC recently had the chance to chat with the comic's artist, John Romita Jr., about whether he thinks the story would be good for a movie, and he said he would love to see it happen.
IFC: There's been a lot of talk about people wanting a standalone "Hulk" movie. I know we probably won't get it until after 2015 or 2016 at this point, but do you think "World War Hulk" would be good for a "Hulk" movie or an "Avengers"-styled movie?
JRJR: To me, you can take any character and, with a quality story and a quality script, make it an amazing film. Look at the "Pirates of the Caribbean." It's a ride from Disneyland and became three great movies — well, four, but I haven't seen the fourth one yet. I think you can take any character and, with a quality script, make it a quality movie, and the same thing with "World War Hulk." You can take any character. You can make a movie about me — well, you'd need a great screenplay writer. But you just need a good story and good writers and, of course, a good director, so yes, I think it can be done.
IFC: Do you think that it should be, because I know a lot of people have been talking about wanting to see that or "Planet Hulk"?
JRJR: Personally, yeah I do. I was thinking that when I did the "World War Hulk" miniseries and I think that character, because of the strengths of the powers, I think it would be an amazing story. And it's simple: the angrier he gets, the stronger he gets, with no limits. That is a very powerful statement by itself.
IFC: I personally think, if they don't want to do a standalone "Hulk" movie, have him go away and then come back in "The Avengers 2" or "3" and have them all get together and deal with the "World War Hulk" plot.
JRJR: Absolutely. Absolutely. It doesn't have to be interplanetary, that's a good point. Hey! Now if we steal that idea, are we going to get in trouble? [laughs]
IFC: No, please, take it. Take it.
JRJR: Alright, fair enough.
Would you like to see a Hulk movie be made based on "World War Hulk"? Tell us in the comments section below or on Facebook and Twitter.