John Francis Daley and Jonathan Goldstein talk "The Incredible Burt Wonderstone," "Horrible Bosses 2" and the upcoming "Vacation" remake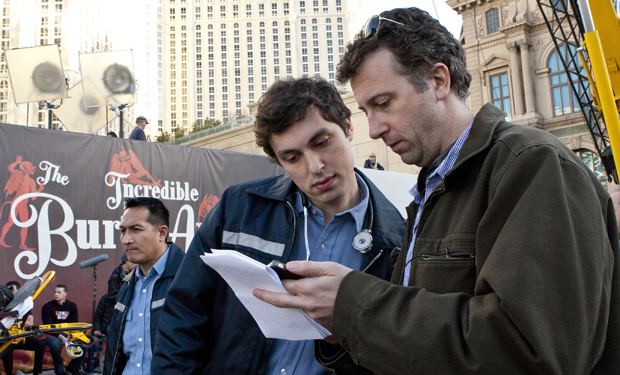 Posted by Jennifer Vineyard on
John Francis Daley, the former "Freaks and Geeks" star turned "Bones" actor and movie scribe, can't really do any magic tricks — "save for one where I can make it look like my middle finger is coming off, because I'm double jointed." As for his screenwriting partner Jonathan Goldstein ("Horrible Bosses"), he can do two card tricks and one coin-disappearing trick, "in a terrible, terrible way." But that didn't stop the two of them from taking a crash course in magic, illusions, and other trickery for "The Incredible Burt Wonderstone."
Daley and Goldstein had been working on their own version of a Vegas magician comedy when New Line came calling, only their version was "more supernatural."
"We had been wondering why there wasn't a comedy yet about a Vegas magician," Goldstein said. "So we went to Vegas, like 'The Hangover.' Only what happens there, stays there."
"We also went to the Magic Castle," Daley said, "which is the nerd heaven for magic in the best possible way. It's the closest thing to the magic bar that Burt, Anton, and Rick the Implausible frequent in the movie. So we learned a lot of secrets there."
Some magicians became more active consultants, such as Penn Gillette and David Copperfield (who cameos in the film and helped developed the movie's pivotal "Hangman" illusion to be shot on film in one take without any cuts necessary). And when Gillette kept coiling a napkin about his finger while talking to them, as if he were doing so absentmindedly, Daley kept waiting for a trick to happen in front of them. (He ended up being disappointed).
"These people are so secretive about their material," Daley said, "because it's a very competitive world, and some of them risk their lives every day when they do certain illusions, like the bullet catching illusion, although telling us that they're risking their lives might be part of the trick, too. So we didn't really focus as much on their secrets as the secrets behind their lives."
"They're really isolated in this bubble because they have no time to do anything but rehearse and perform," Goldstein said.
Daley and Goldstein performed a trick of their own, of sorts, by creating a role for Steve Carell in which he would have to wax his body hair — again. ("That's the main reason to do this movie!" Daley laughed). And they were grateful that Jim Carrey created an illusion with the character they created for him (a blend of David Blaine and Criss Angel). Steve Grey ("the Brain Rapist") isn't as much of a conjurer as an endurance specialist, and Daley and Goldstein were intrigued by the idea of him being a "low key villain, but not openly malevolent." Carrey turned Steve Grey into more of a "messianic figure," coming up with a whole new look for the street magician and then disappearing into him.
"It was his idea to do the body tattoos," Goldstein said. "He even drew a picture of the bunny skull and he gave it to the cast and crew as temporary tattoos during production."
Next up for the Daley-Goldstein team is directing a remake of "Vacation," starring Ed Helms, in which he would play a grown-up Rusty. "It's in the spirit of the best of what John Hughes did," Daley said of the pair's script. "There will be emotion and you will hopefully care about the characters and their fun mishaps, including another road trip to Wally World." That, and other homages to the original, are what makes the project "exciting" for the duo. "We've been playing it out in our heads," Goldstein said, "catching up with the characters, and going for the darkest possible reveal."
Daley and Goldstein said that they're in talks for both Chevy Chase and Anthony Michael Hall to make appearances in the "Vacation" remake. "Our hope is to have some people back from the original," Goldstein said. "There will definitely be characters from the original in this, but we do want it to be its own movie." (And don't expect cameos from the two in this one, despite popping up in "Wonderstone" as paramedics and stage managers: "We'll probably stay behind the camera this time," Daley said.)
Soon to follow will be "Horrible Bosses 2," which is several drafts into the scripting phase. Just as in the last round, expect several stars to play against type as Jennifer Aniston and others did before. "They don't have to make a big commitment," Goldstein said. "They just come in, and it's not a huge part. But whoever it is, they can come in and go out many nights past their bedtime, and have a lot of fun murdering people — at least on camera."
Which upcoming Daley and Goldstein project are you most excited for? Tell us in the comments section below or on Facebook and Twitter.