"Independence Day 2" plot details revealed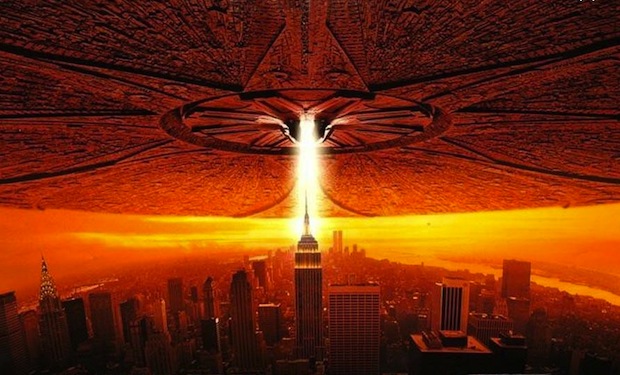 Posted by Terri Schwartz on
Roland Emmerich is not keeping his excitement about his upcoming "Independence Day" sequels a secret. "ID-4ever: Part 1" and "Part 2" are still in the works, and are recently getting rewrites by "White House Down" screenwriter James Vanderbilt. Emmerich and his producer Dean Devlin wrote the scripts for the two movies, and he teased some major plot points in a recent interview.
"The humans knew that one day the aliens would come back. And they know that the only way you can really travel in space is through wormholes. So for the aliens, it could take two or three weeks, but for us that's 20 or 25 year," Emmerich told Entertainment Weekly. "It's a changed world. It's like parallel history. [Humans] have harnessed all this alien technology. We don't know how to duplicate it because it's organically-grown technology, but we know how to take an antigravity device and put it in a human airplane."
Though actors like Bill Pullman will return in the new movie, expect these films to feature a new generation of actors. One of them will be Will Smith's character's stepson, though no guarantee actor Ross Bagley will reprise the role.
"It's still some of the same characters, but also new younger characters; it's a little bit like the sons take over," Emmerich said. "The first one ends on a little success, but only enough to give the humans hope. And then in the second one they free themselves again [from the aliens]."
When IFC caught up with Devlin at the Saturn Awards in July 2012, he said that the sequels fit perfectly with the plot of the first "Independence day."
"We went off, we wrote a script, and the people who've read it, they've all said, 'This feels like you always planned it this way.' And that's what we wanted, because we owe a lot to that movie," Devlin said. "It gave us careers, fans really liked it, and we never wanted to just go whip out some crap-o sequel just because it would make us money. We believe in this one. We think we've got the right one to tell."
Are you looking forward to these upcoming "Independence Day" sequels? Tell us in the comments section below or on Facebook and Twitter.