"Godzilla" to feature original 1954 star Akira Takarada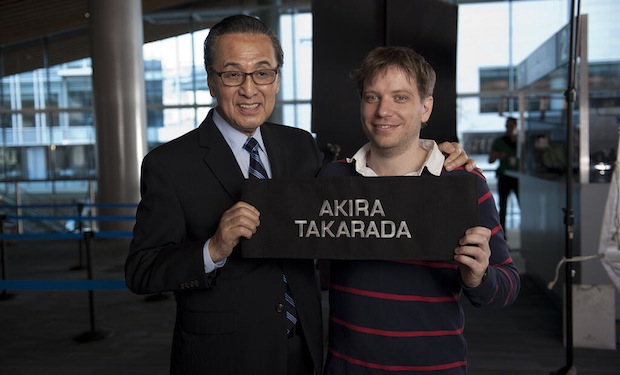 Posted by Terri Schwartz on
A familiar face is joining Gareth Edwards' "Godzilla." It's been revealed that Akira Takarada, who played a role in the original 1954 "Godzilla," will star in some capacity in the new movie.
Legendary Pictures' official Twitter account revealed the exciting news by posting a picture of Edwards with Takarada. "Special photo from the #Godzilla set," the tweet reads. "Thanks to all the Godzilla fans for your support."
Takarada is the latest actor to join "Godzilla's" ever-growing cast. He's joining Aaron Johnson, Juliette Binoche, Bryan Cranston, Elizabeth Olsen, David Strathairn and Ken Watanabe in the new movie. No word yet on who he'll play. Thus far we know Johnson is the film's lead, Cranston is his stepfather and Olsen is his girlfriend.
Takarada has appeared in more than just the original Godzilla. He also appeared in "Godzilla: King of Monsters!," "Mothra vs. Godzilla," "Godzilla Versus the Sea Monster," 1977's "Godzilla," "Gojira vs. Mosura" and, most recently, 2004's "Godzilla: Final Wars."
"Godzilla" is due in theaters on May 16, 2014. Nothing has been seen of the movie since Warner Bros. announced it at the 2012 San Diego Comic-Con, so in all likelihood the studio will have its cast return in 2013. David Callaham, David S. Goyer and Max Borenstein penned the script and original Japanese creator Toho Studios is overseeing the project. Former "The Walking Dead" showrunner Frank Darabont worked on a rewrite.
Are you glad Takarada is involved? Tell us in the comments section below or on Facebook and Twitter.